Leading UK circuit operator MotorSport Vision has appealed for help after a safety car and medical vehicle were stolen from Cadwell Park on Tuesday morning.
Lincolnshire Police are investigating after the vehicles, a BMW M240i safety car (above) and BMW X5 medical car (below) with a combined value believed to be more than £100,000, were stolen from the circuit at approximately 0015hrs on Tuesday morning.
As well as the stolen vehicles, maintenance equipment was also taken in the incident, while the circuit office IT and security systems were damaged.
"It's a tricky time for us anyway, we simply can't operate at the moment [due to COVID-19] so it's unhelpful to say the least," said Giles Butterfield, MSV's operations manager.
"The police have been very good, very cooperative, their response has been excellent and we're very much hoping that with their help we might be able to recover the vehicles.
"Even though they were stolen at 1am in the morning it seems incredible that someone won't have seen them being driven and they are reasonably easy to spot, they are not just anonymous vehicles, sign written on the side, lights on the roof. Hopefully either technology or people's power of observation will help us track them down quickly.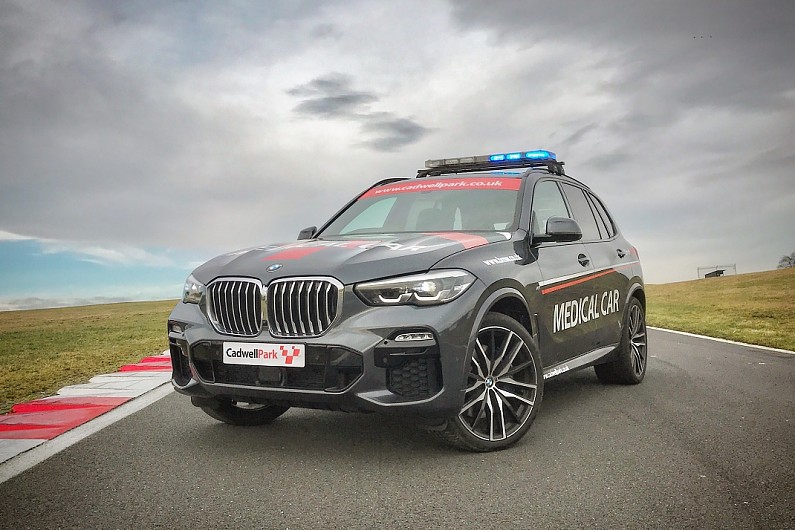 "The office has been ransacked, a lot of the IT kit has been destroyed in an effort to disable alarms and CCTV so we've got a bit of clearing up to do and a bit of damage to repair as well. Some other maintenance equipment has been stolen too. It leaves a pretty bad taste to be honest.
"Right now if we can ask people to be vigilant and keep their eyes open that would be fantastic. As has been evident by the comments on social media so far, everyone is pretty horrified by what's happened and hopefully we can get the vehicles back."
MSV, the UK's largest circuit operator which is run by ex-Formula 1 driver Jonathan Palmer, suffered heavy financial losses last year in the wake of the COVID-19 pandemic, with track activity in the form of race meetings, track days and testing being greatly reduced.
These two bespoke cars were stolen from Cadwell Park in Louth last night

We're appealing for information about the theft of these BMW's which are thought to have a combined worth of over £100,000

Please share and help us catch those responsiblehttps://t.co/RqqrAk9TGl pic.twitter.com/vDkLxahJOv

— Lincolnshire Police (@LincsPolice) January 26, 2021
Anyone with information regarding the stolen vehicles should contact the police by calling 101.