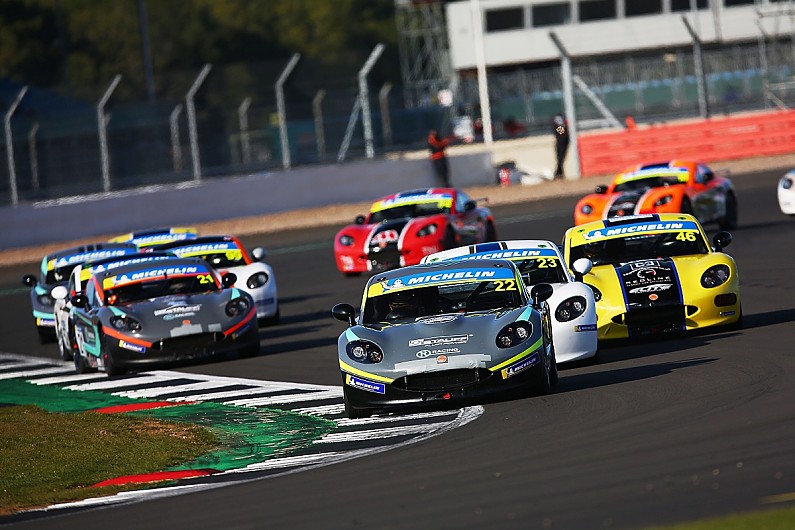 Ginetta Junior and British Formula 4 provided the most dramatic racing among the British Touring Car support series at Silverstone last weekend, while David McCullough added a third Martin Donnelly Trophy win at Kirkistown and there was a huge entry for Donington Park's Classic Sports Car Club event
When he ended the first lap of the opening Silverstone race in 13th place, it looked like Bailey Voisin would be the Ginetta Junior title contender having a weekend to forget. That he stormed through to win a chaotic race, while main rival Tom Lebbon was penalised down to 11th, was the perfect demonstration of how quickly fortunes can change.

Georgi Dimitrov grabbed the lead from fellow front-row starter Voisin into Copse, while Voisin and Lebbon were both delayed as they battled into Becketts. This allowed Joel Pearson through to challenge Dimitrov but Pearson's lead, in turn, was shortlived as he was sent off at Brooklands by Lebbon.

William Vincent as a result shot from sixth to first and looked set for a maiden win when he overcooked it into Becketts on the penultimate tour. That seemed to have handed Lebbon the win but a 10-second post-race penalty - which Lebbon and his Elite Motorsport team are now appealing to the National Court - for the move on Pearson handed his arch-rival Voisin the spoils, after he dispatched Vincent and Josh Rattican on the final lap.

"It's not the same winning under the circumstances of a penalty, but it's still amazing to win!" said R Racing driver Voisin. "You've got to have a bit of luck as well as talent."

Race two was even more dramatic and was twice red-flagged. Dimitrov again seized the early lead as Voisin and Lebbon tussled behind. A whole bunch of cars were then close together for second, with a slight tap from Vincent sending Freddie Tomlinson into the path of Pearson, who careered into the wall out of Copse at high-speed, destroying his car.

"I had no time to brake, so it was a sixth gear, 100mph crash," said Pearson, who avoided serious injury. "It ruined what could've been a good result."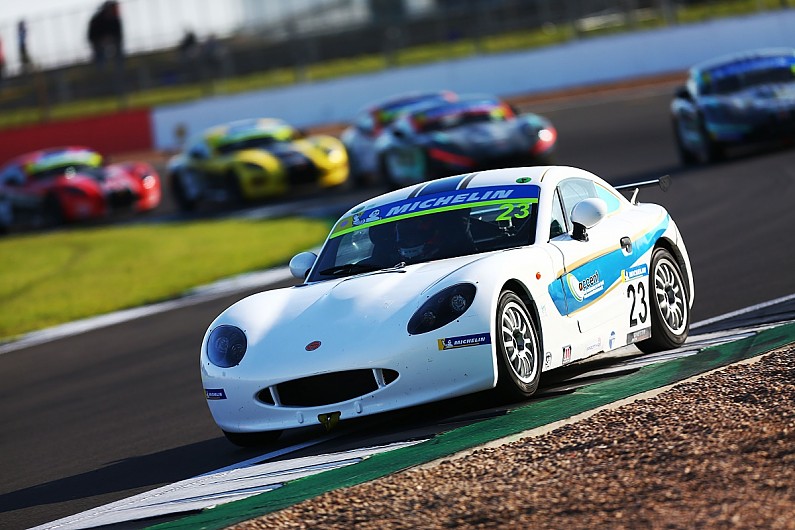 The restart only lasted one lap before another red flag as Lebbon - who was also involved in the earlier incident - was sent into the Luffield gravel and rolled over when trying to avoid the sideways James Higgins, meaning Dimitrov was declared the winner from Voisin and Rattican.

Dimitrov briefly led the finale too, before Voisin got ahead. He then had to resist the charging Tom Edgar, who applied bucketloads of pressure but could not quite take the place, meaning Voisin's lead is now 30 points over Rattican and he is 74 ahead of Lebbon after the most dramatic reversals of fortune.

Thruxton was not the greatest event of Luke Browning's British Formula 4 season but, despite that, he still managed to extend his points advantage. However, he was unable to repeat that feat for a second weekend on the bounce as this time, Zak O'Sullivan almost halved Browning's lead to 33 points.

Browning did actually win the second Silverstone race- the pick of the three contests - on the road but was later penalised for exceeding track limits and was demoted to fifth.

The reversed-grid polesitter had led away as O'Sullivan quickly reclaimed third having briefly lost out to Alex Connor off the line. The top five were soon running right together and, shortly after James Hedley passed Connor at Luffield, Casper Stevenson, O'Sullivan and Hedley went three abreast into Brooklands, with O'Sullivan emerging ahead through Woodcote. As he began putting Browning under pressure, Hedley spectacularly passed Stevenson around the outside of Becketts.

It stayed that way to the flag with inches separating the cars at times - only for Browning to be penalised after the race, meaning O'Sullivan inherited the win from Hedley and Stevenson.

"The ending was a surprise because I was P3 in no man's land [mid-race]," said O'Sullivan, who hadn't expected to close right in on the squabbling Browning and Stevenson. Hedley added: "It was a great race - probably as close racing you can get without contact."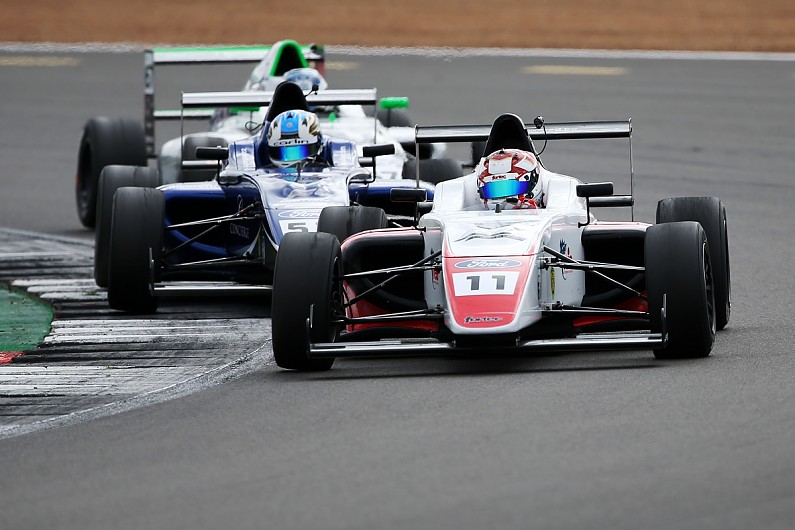 The same could not be said about the scrappy opener, which featured a number of incidents. Browning had contact at the start that limited him to fourth place, while Hedley got too close for comfort with JHR team-mate Abbi Pulling (the pair also colliding in race three).

INSIGHT: Why national driving standards are slipping again

Up at the front, Connor won the race from pole, although he had a scare on the greasy track at the final corner as O'Sullivan took to the grass and almost stole the win, having passed Stevenson at Becketts late on.

The finale was all about Stevenson as he secured his maiden car racing win. He snatched the lead from Connor off the line and looked in control before a mid-race safety car period, much to his annoyance. But he controlled the restart perfectly and was again able to pull clear of Connor and O'Sullivan.

Browning ended up fourth - and faced another track limits investigation, but avoided a penalty this time - as his rivals seized the momentum in the title fight.

Harry King got back on the right track in the Porsche Carrera Cup GB at Silverstone by finishing both races without Thruxton-style spectacular punctures. And of course, because he finished, he won.
King's domination appeared to come under threat when, with his Team Parker Racing machine sitting in the pits in the closing moments of qualifying, his time was beaten by Lorcan Hanafin. But Hanafin's time was deleted for breaching track limits, so King took up his customary pole.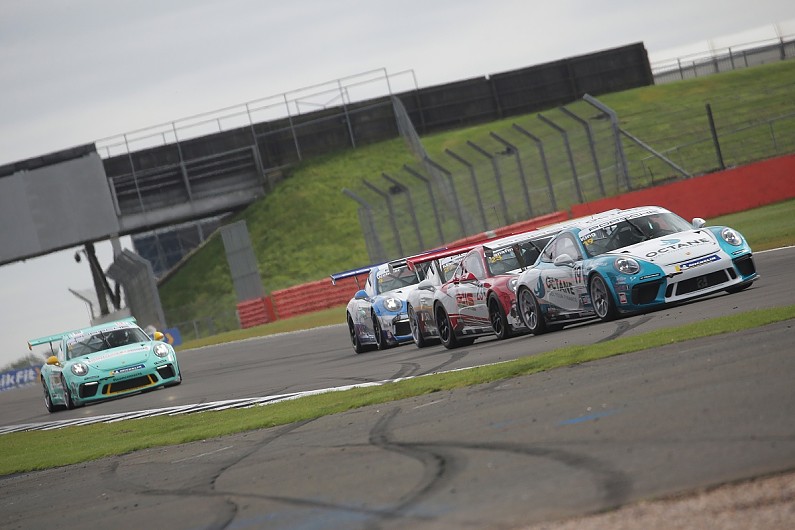 Ex-Formula 3 racer Sam MacLeod, who started from the front row, led the increasingly distant chase of King until the very last lap of the first race. That was when Will Martin, fresh from his maiden win, smoked his way down the inside at Becketts with an audacious lunge. Josh Webster also took advantage to grab third, but a 5s track limits penalty relegated him to ninth.

King started the reversed-grid race fifth, and got through to second within seven laps. He did close the gap to leader Matthew Graham, but it appeared the Redline Racing man was fairly closely matched on pace, and he was certainly no sitting duck. Then, with nine laps to go, he locked up at Becketts and ran wide, and could not stop King passing at Brooklands. Martin completed a good weekend with third place from Webster.

"That's redemption from the gutting weekend we had at Thruxton," said King. "I learned so much in the week working with Michelin - I didn't want to make the same mistakes again."

The sight of 13 Minis running line astern in the second Mini Challenge contest at Silverstone last weekend was spectacular- and it was a deliberate ploy from 2018 champion Ant Whorton-Eales.

The Jamsport racer jumped front-row starters Nathan Harrison and Dan Zelos into Copse and was happy to back the pack up for the rest of the race, as he took the win and grabbed the points lead.

"I knew if I could get to the front, I could just cause a train - and I like doing that!" Whorton-Eales said. "You don't have to go flat out, as long as you don't miss any apexes, as it's very difficult to pass. But if you do make a mistake you end up 15th!"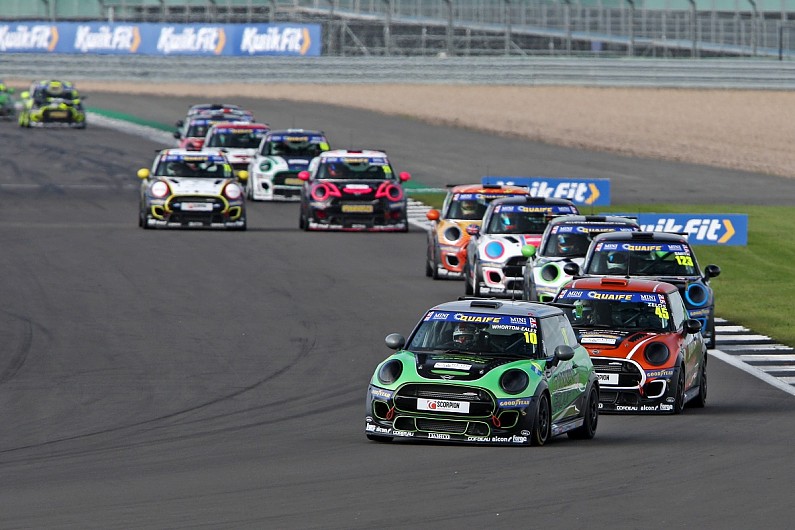 Whorton-Eales' tactics worked perfectly as Zelos attempted a move to get ahead, but instead was bundled out of the way at Luffield by Isaac Smith and into retirement with a puncture, as Smith and Harrison completed the podium.

The other two contests followed a similar pattern as the leading pack was close, albeit with little action. Harrison led the opener throughout from Zelos and Whorton-Eales, while Tom Rawlings grabbed the lead from reversed-grid polesitter Callum Newsham into Copse at the start of the finale.

The top four in the Ginetta GT5 Challenge standings had been separated by just 12 points prior to the series' latest appearance on the British Touring Car support bill at Silverstone. But two further wins for Josh Malin - who was third of that quartet - mean he now has a seven-point advantage ahead of the final planned 2020 event.

Malin's opening triumph was all about the start as the Richardson Racing driver leapt into the lead at Copse. And he stayed out front for the remainder, scampering clear from a close fight for second. This went the way of pre-event points leader James Taylor, while John Bennett took third after polesitter Jonny Wilkinson was spun at Luffield.

It took former MaX5 star Malin until lap seven of the 19-lap second race before he hit the front, passing Wilkinson at Becketts. However, Wilkinson was not prepared to give up without a fight, and this brought Taylor into contention as he snuck ahead of Wilkinson at Copse.

Wilkinson later fought back around the outside at Brooklands, but contact with Taylor dropped Wilkinson to fifth again as Bennett grabbed third from Gordie Mutch on the final lap.

Further back, two podiums for Fox Motorsport driver Ian Duggan meant he was provisionally crowned Am champion.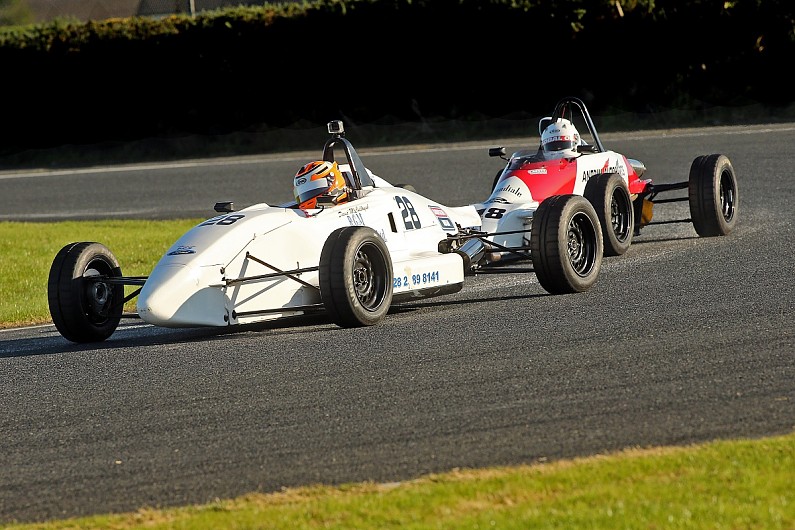 Kirkistown 500MRCI: McCullough seals Martin Donnelly Trophy hat-trick
Reigning Northern Ireland Formula Ford 1600 champion David McCullough added another title to his growing collection at Kirkistown when he won the Martin Donnelly Trophy for a third time last weekend. There have been other three-time winners in the past, but McCullough was the first to score his three triumphs in successive years.

In a break with tradition, the 'Donnelly' this year was an aggregate affair, with the result based on the outcome of the two NI championship races. Not ideal, perhaps, but it was a situation born out of the COVID-19 crisis, and the need to fit in as many championship rounds as possible before the season comes to an end.

It could have become complicated but, despite the best efforts of Alan Davidson- who got his Mondiale ahead of McCullough's Van Diemen several times - the organisers were spared the task of doing complex additions. McCullough's winning margin in race one was a massive - by FF1600 standards - 3.7 seconds and, while the gap was smaller in the second encounter (0.9s), the overall result was beyond doubt.

Dave Parks had to start both races from the back after transponder problems in qualifying, but carved his way through the pack to claim a brace of podiums, although his impressive progress was overshadowed by the struggle at the front. Honours for top non-podium finisher were split, with Drew Stewart claiming fourth spot in the first race, while reigning Sprint champion Adrian Pollock, making his return to FF1600 in Hugh Reid's Mondiale, turned the tables in race two.

Not to be outdone, Irish Formula Vee made its second visit north in as many months with a trophy of its own, in addition to championship points.

After two highly entertaining races, honours were split between points leader Gavin Buckley, who took the first, and reigning champion Anthony Cross, who emerged victorious from the second, winning the Emerson Fittipaldi Trophy in the process. In both cases the lead squabble also involved poleman Jack Byrne, Philip Sheane and Jordan Kelly, who all looked like contenders until the final laps.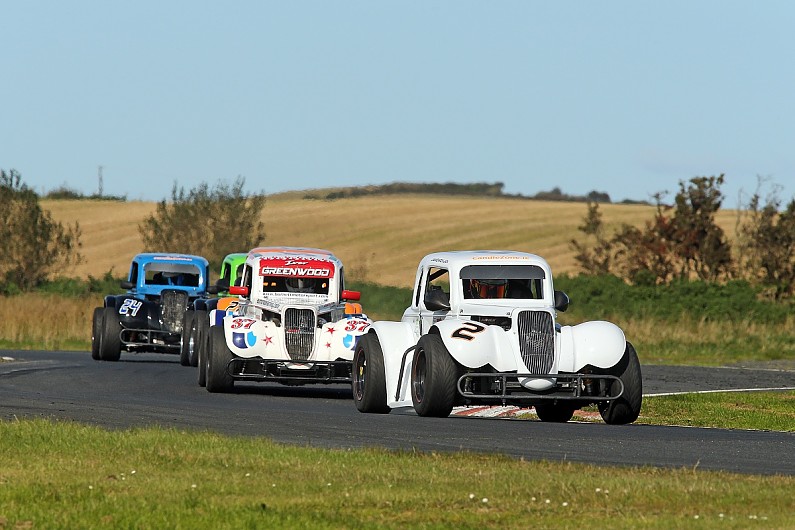 Close squabbles were also the order of the day in three encounters for Irish Legends. Teenager Jamie Moylan (above) took the overall victory with two race wins to veteran racer Ivor Greenwood's one, as Greenwood retired from the restarted finale. Geoff Richardson, however, was the most consistent, finishing second three times.

There was consistency, too, but less percussion, among the Fiesta Zetec brigade, where Mark Stewart headed home a squabbling bunch comprising Keith Dawson, Neville Anderson and Paul Stewart in the first race, before the result was repeated in race two. Bearing in mind the quartet managed to swap places umpteen times between start and finish, to achieve the same result twice was quite a feat!

The first race had to be restarted after a first-corner kerfuffle resulted in Megan Campbell facing the wrong way, while an unknown soldier tried to park between her headlights. The red flags flew, but thereafter everybody was very well behaved.

Paul Sheridan and Robert Kennedy took a win and a second place apiece in the concurrent Mazda MX-5 battles, after series founder David Cousins went out from the opener with electrical gremlins.

Niall Fitzsimmons and his Radical Prosport scored a brace of Roadsports wins ahead of the Crossle of John Benson, despite a spin in race two, while Jack Finlay took back-to-back victories in the Global Lights, which were sharing the grid.

Among the Saloons and GTs, Gerard O'Connell found himself facing a challenge from Iain Leinster's very special MG Midget. Starting from pole, the MG led O'Connell's SHP Escort-Millington until the rains came, whereupon the Midget reversed smartly into the scenery to take no further part in the game. This allowed the Escort to slither away to a win ahead of Gareth Thompson's MGB V8.

Race two was drier, and this time the Midget - its rear end suitably restored to its proper shape - galloped away to win. Top saloon in both races was the Honda Integra of Stephen Traub from Peter Baxter's SEAT Supercopa.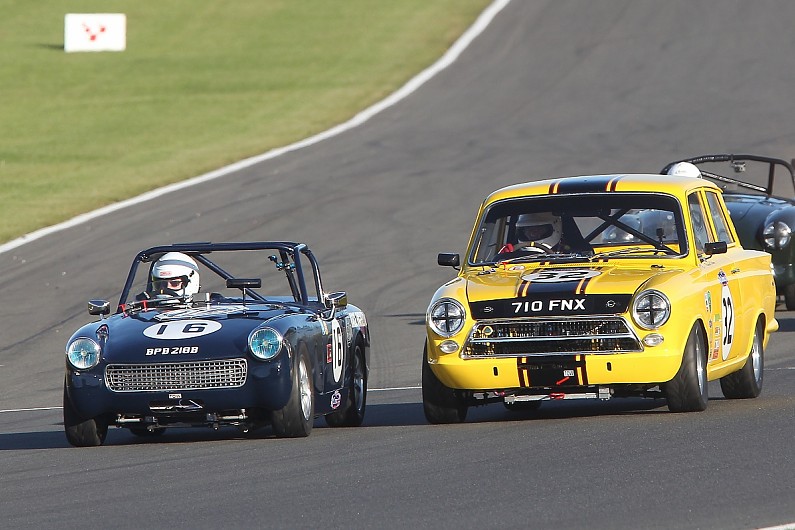 Donington Park CSCC: Staines makes all the right moves in Swinging Sixties
On a weekend when too many races were settled by penalties applied for pitstop infringements, the Swinging Sixties Group 1 contest was decided by a piece of strategical mastery, with Ian Staines making all of the right moves to take victory in his MG Midget.

Staines held the lead initially, losing it after the first of two safety car periods and falling to fourth, with Richard Belcher's Lotus Cortina taking the helm. But, when a second caution period was called, Staines immediately moved to make his mandatory stop while those ahead, unaccountably, waited until racing resumed. Once Chris Watkinson belatedly pitted his Mini, Staines emerged ahead with Tom Pead's BMW 1600Ti fending off the Mini of Joshua Brooks for a distant second. Belcher, meanwhile, had smoked into retirement.

Father-and-son pairing Nigel and Oliver and Reuben appeared to have produced a perfect performance in the Group 2 race, but their TVR Griffith wasn't in the pitlane for the mandated period and so was chucked back to fourth. Will Plant was rewarded for sticking to the task after an early spin in his Morgan +8 with a win, his penultimate lap move on the brakes at the chicane to pass Matt Manderson's Chevrolet Camaro proving decisive.

The Classic K race was a convoluted affair. It was red flagged almost immediately as an extra car had erroneously taken the start; there were two caution periods; and it was finally flagged six minutes early. The top three all failed to follow the pitstop regulations, meaning the TVR Griffith driven to fourth by Nathan Dod was classified first - the position co-driver and father Peter had held for the first half.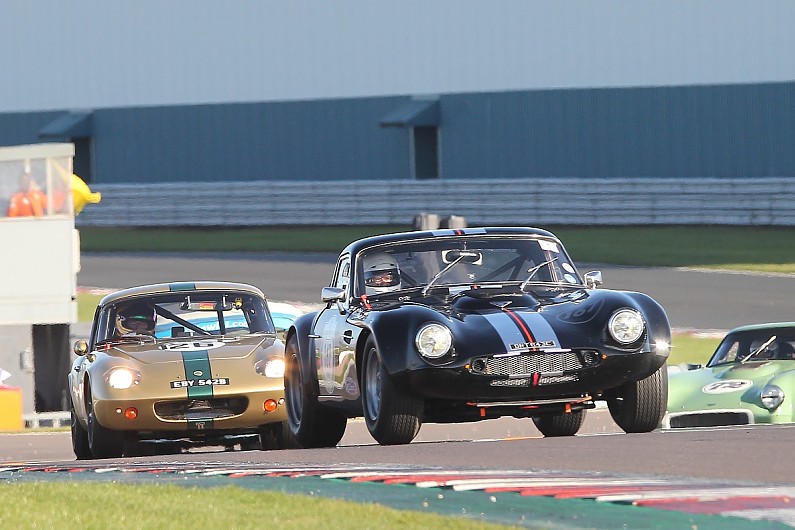 Piers Masarati took the lead on the fifth lap of the Modern Classics encounter and he and brother Miles, who took over their Porsche 964 Turbo, didn't look back. Dave Griffin's BMW M3 came out on top of a hugely entertaining battle for second by passing both Karl Cattliff's similar car and Alex Taylor's Mazda RX-7 in one fell swoop at Old Hairpin near the end, but his efforts were wasted as he was penalised for a short stop and dropped to fourth.
A similar punishment for Tim Davis meant that he did not keep his on-the-road win in the Magnificent Sevens opener. His Caterham C400 had just passed the Hayabusa Turbo-powered version of Rich Webb before making its inadequate pit visit, but afterwards the pair traded the lead several times - Davis's last-lap pass at Redgate having seemed decisive. Webb controlled the second race to make it a double.

A first ever dry Slicks Series race was led for much of its duration by the Lotus Elise of Rob Fenn, who only squeaked into the race having been a reserve for qualifying. Daniel Wylie's Porsche 911 GT3 Cup led after the stops and a caution period but Fenn soon overturned the advantage. Both were usurped by historic ace Michael Lyons - in Alistair Fazekas' Ferrari 458 Challenge - who breached the staunch defence of Fenn with seven minutes remaining.

Andrew Windmill was within two minutes of claiming his second Tin Tops victory of the year in his Honda Civic Type R - overcoming a 30s success penalty to do so - only to run out of fuel when comfortably ahead. "It is something we had been experimenting with and we thought we had it spot on, but we must have been about two litres short," he said. Steve Simpson's Peugeot 206 took the spoils, while on-track runner-up Martin Addison was pinged back to fourth for a sub-two minute pit visit.

Darren Fielding and Colin Wells, in their BMW E46 M3 GTR, ran out victors of the New Millennium race by three seconds from the Lotus Europa of Andrew Rath, but were beneficiaries of a failure for another Lotus. Chris Griffin's V6 Cup ran strongly before a long mid-race stop, with its engine letting go almost immediately upon rejoining the track.

Mark Chilton's stunning Nissan Skyline GTR R32 chalked up a second Future Classics victory of the season, reeling out a sufficient gap in the first half to counteract his 30s handicap for winning at Snetterton.

Andy Southcott maintained his clean sweep of victories in the Special Saloons and Modsports, taking his spaceframe Midget's tally for the season to six.
Reports by Stephen Lickorish, Marcus Simmons, Richard Young and Ian Sowman. Pictures by Jakob Ebrey Photography, Roy Dempster and Mick Walker. Want the full picture on last weekend's racing, including more national reports? Subscribe today and never miss your weekly fix of motorsport with Autosport magazine