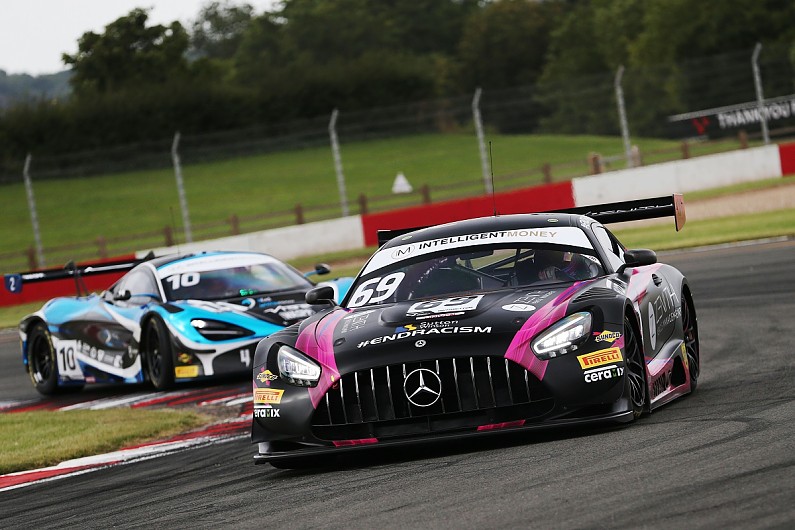 Predicting the British GT winner has been a tricky task so far this season and that continued to be the case at Donington Park last weekend as a sixth different crew triumphed. Elsewhere, there was plenty of dramatic action from the British Touring Car support series at Thruxton
A few seconds into last Sunday's British GT encounter at Donington Park, Sam De Haan's RAM Mercedes was facing the wrong way. But three hours later his co-driver Patrick Kujala crossed the line to win a dramatic race and move into the championship lead.

The RAM duo had only missed pole by 0.065 seconds on the combined times to the Jenson Team Rocket RJN McLaren of James Baldwin and Michael O'Brien. But the chance of a strong result seemed to have vanished when De Haan tried to go around the outside of the polesitter at Redgate on the opening lap.

Baldwin held his ground and De Haan found himself spinning. A failed three-into-one attempt just behind resulted in Michael Igoe's WPI Lamborghini being deposited into the gravel and the safety car was called, with De Haan rejoining near the back.

Barwell Motorsport immediately decided to bring in Adam Balon, so that Phil Keen could be installed as soon as possible, and with minimal time loss. The off-sync Lamborghini would come into play later in the race, but at the restart Baldwin quickly started building a lead while De Haan began his comeback.

At the start of lap 22 he drove around the outside of Richard Williams's Steller Audi to take sixth. Although Baldwin was by now 22.2s clear of the Mercedes, Rob Collard's stout defence of second meant that everyone else was still in range. De Haan was also one of the first of the frontrunners to pit, and Kujala continued the recovery with consistently rapid laps.

Up at the front, Baldwin held a lead of over 15s before pitting, but O'Brien didn't find himself in the lead when he rejoined. Keen had been consistently the fastest driver during the first hour and he inherited a big advantage, which he extended to over a minute. With three mandatory stops and restrictions on how long each driver could spend in the car, the Barwell Lamborghini certainly wasn't home and dry, but it was now a factor for victory.
Keen relayed Balon just before the 1h15m mark, handing the lead to O'Brien. By now, Kujala was up to fourth and harassing Ollie Wilkinson's Optimum McLaren. Wilkinson proved a tough nut to crack, but Kujala dived in for a second pitstop at half-distance after the team identified a leaking tyre valve.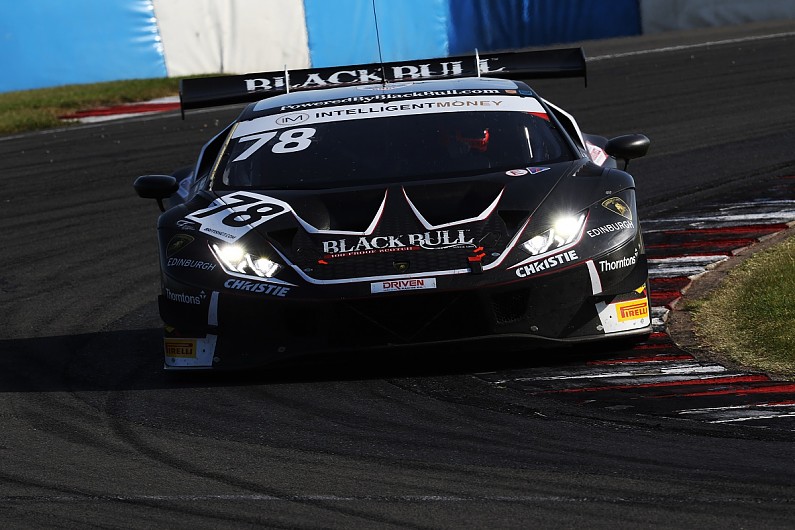 Almost simultaneously, Sandy Mitchell - who had only been in the second Barwell car for less than 20 minutes - got a slow puncture. The team took the 'opportunity' to make the second of its mandatory stops, so Collard had to climb back in. This delay, along with the extra 20s the car had to spend in the pits at its final stop for winning last time out at Brands Hatch, put the erstwhile points leaders out of the lead battle.

O'Brien soon came in as well and, with leader Wilkinson staying out for a long stint, the frontrunners spent the next phase out of sync with each other on pitstops. Balon was consistently losing time to Baldwin, while De Haan was holding his own just behind the 2 Seas McLaren of Jordan Witt.

De Haan handed over to Kujala for the final time with just over an hour to go. Baldwin and Witt soon followed, the trio then running close together in the order O'Brien-Jack Mitchell (in for Witt)-Kujala. Crucially, Kujala got by Mitchell when the McLaren ran wide at the Fogarty Esses and then jumped O'Brien in traffic.

Wilkinson finally handed back to Lewis Proctor with around 50 minutes to go, and Proctor caught and passed Balon just as the Lamborghini peeled into the pits. But Keen's out-lap was quick enough that, when Proctor came in next time around, the Lamborghini got back ahead. That meant Keen was fourth with half an hour remaining, with 9.8s and two McLarens between him and Kujala.

Keen has delivered plenty of fine performances over the years, but the subsequent charge was one of his best. Hurling the Huracan around Donington, he dived down the inside of Witt into Redgate and duplicated the move on O'Brien five minutes later.

The leader's advantage came down, but Kujala kept his cool to cross the line 3.4s clear to record his first win of the campaign - the sixth different crew to take victory in as many races. "A perfect race," said De Haan, presumably forgetting the early handicap!

O'Brien/Baldwin completed the podium, from Witt/Mitchell and Proctor/Wilkinson. The Optimum McLaren was only 5.5s clear of a flying Sandy Mitchell at the flag. The 20-year-old was superb in the final hour, often matching Keen's pace, but sixth place meant he and Collard are now nine points behind De Haan/Kujala with three races left.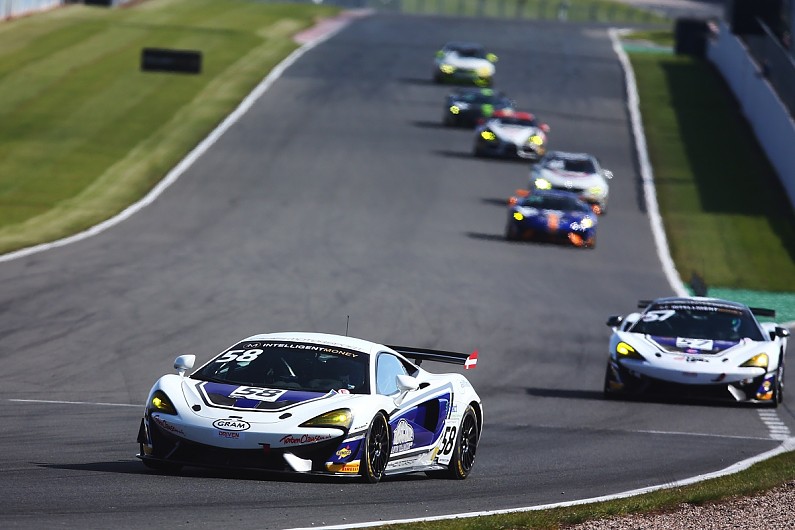 British GT4: Fight for the class win is just as close

HHC McLaren duo Patrik Matthiesen and Jordan Collard have been there or thereabouts in British GT4 this season but hadn't quite managed a win. That changed in a three-hour contest that underlined how close the class is in 2020.

Brands Hatch winners Matt Cowley and Jordan Albert pipped the McLaren to pole and Cowley led the early stages, but Matthiesen and Collard knew they just had to keep the Academy Ford Mustang in sight. The 20s success pitstop penalty from Brands was always going to be tough to overcome, but Cowley did his best, ekeing out a 5s lead. And there was a third contender for victory too.

Following the GT3-induced safety car, TF Sport brought both of its Aston Martin Vantages in at the end of lap one. Patrick Kibble, the fastest of the Aston pilots in qualifying, was the only driver to consistently match Cowley's and Matthiesen's pace.

When the rest of the GT4 field made their first stops, Kibble moved to the front, 10s ahead of team-mate Jamie Caroline. Both were soon in for their second mandatory stops, putting Albert and Collard back to the front. Albert pitted just before half distance, having been held up by the returning Warren Hughes in one of the Balfe GT4 McLarens. The Ford was still ahead of Matthiesen/Collard after the second stops, but the lead never looked like being enough to make up for the 20s success penalty, due to be served at the final changeover. HHC duly jumped the Mustang at the final stop, despite Albert's impressive pace after climbing back aboard.

TF's chances of victory started to slip away when Connor O'Brien couldn't quite match the speed of the chasing duo. When he finally handed back to Kibble with just under half an hour to go, the Aston rejoined 12s behind the Mustang. Kibble chipped away at the gap but it was never going to be enough.

But Albert still had a chance. He was within 2s of Collard during the closing stages, sometimes closer, but the leader withstood the pressure to take a well-earned win.

The race was a disaster for the second HHC McLaren. Gus Bowers ran third early on, but two pitlane penalties limited him and Chris Wesemael to eighth, meaning they lost their points lead.

Caroline and Dan Vaughan struggled to match the pace of their team-mates, but fourth place means they are now tied at the top of the table with Kibble/O'Brien. Just 8.5 points now covers the top five crews, in three different cars.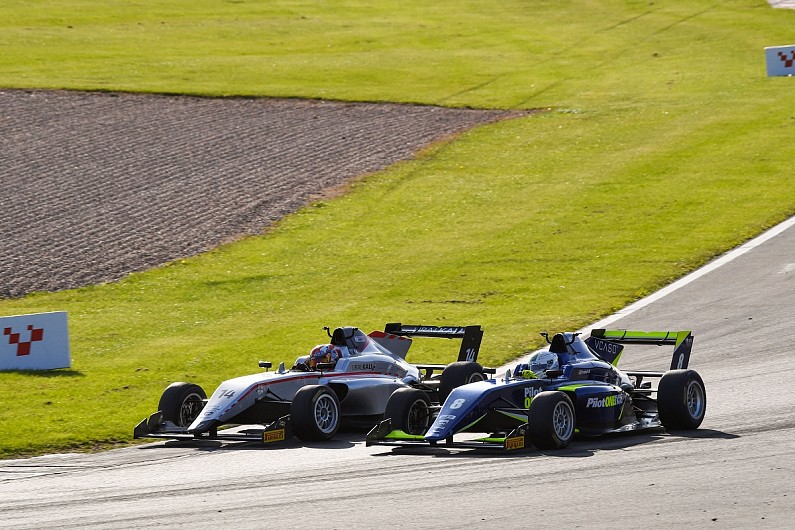 BRDC British F3: Maini extends his points advantage

Early-season pacesetter Kaylen Frederick may have bounced back from a miserable weekend at Brands Hatch with a victory at Donington Park, but it wasn't enough to prevent the relentless Kush Maini from extending his lead at the top of the BRDC British F3 Championship standings.

Frederick has perhaps been guilty of overdriving on occasions, but the Carlin racer's searing pace allowed him to top qualifying by nearly a quarter of second from Ulysse De Pauw, as almost the same margin covered second to eighth. He had a similar gap over Hitech GP man Maini in the second-fastest times used to determine race three's grid.

INSIGHT: How a nightmare weekend turned British F3 upside-down
Come the first race, Frederick never looked like being beaten. After an early safety car, he reeled off a series of fastest laps to take his fourth win of the season by over three seconds from De Pauw, who suffered gear-selection problems all weekend, and Maini.

"It all really started with qualifying, where you have to put the work in," said Frederick. "From pole you're starting on the front foot with less pressure. You just need to hold position instead of make up positions."

Maini's championship challenge had so far been built on consistency, with just a single win. His podium in race one, allied to 10th (ahead of Frederick in 12th) in race two, suggested more of the same. But Maini himself wanted more and started race three in determined mood. "It's going to be gloves off and try to get that win," he said.

So it proved. On the first lap, a late dive inside Frederick at the Old Hairpin allowed Maini to complete the pass into McLeans, as Frederick also dropped behind the Douglas Motorsport car of De Pauw after a mistake at the Esses. The positions remained static, but Frederick lost third to team-mate Nazim Azman post-race via a track-limits penalty.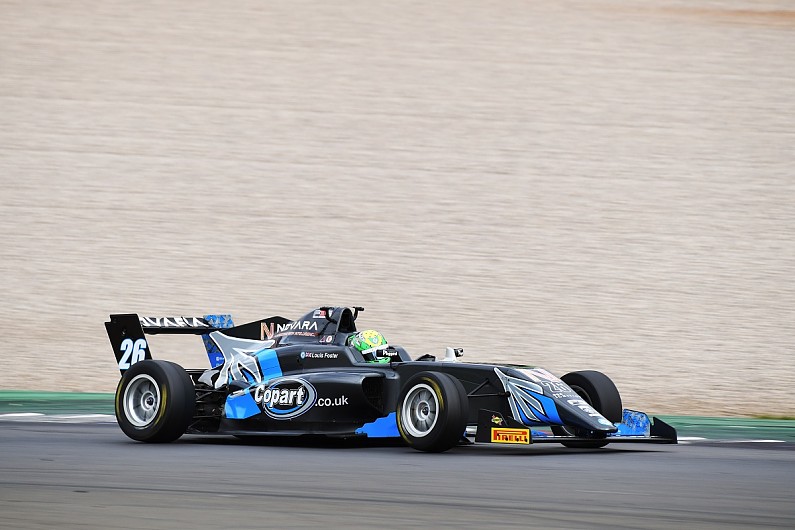 The other main title contenders had mixed weekends at best. Louis Foster (above), a winner at Donington last month, was left perplexed by a lack of pace that put him 11th fastest in qualifying. A good start in race one was undone by a spin after contact with Kiern Jewiss at McLeans on the first lap, before charging back to 11th after the resulting safety car.

From sixth on race two's reversed grid, Foster led within a lap. He cruised to victory from Josh Mason (Lanan Racing) and Manaf Hijjawi (Douglas) - both claiming their first podiums of the season - but could only manage 11th in race three.

It was Douglas driver Jewiss's turn to endure a nightmare weekend. The 2018 British Formula 4 champion hasn't had a podium since inheriting victory in the season opener, but still held second in the points, through consistent finishes, heading into the weekend. After qualifying mid-grid, the race-one incident cost Jewiss dearly. He limped back for repairs but was not classified and so unable to benefit from the reversed grid, earning his only points of the round from eighth in race three.

With three race weekends to go, Maini holds a 54-point lead over Frederick, with Foster and De Pauw more than 70 points off the pace.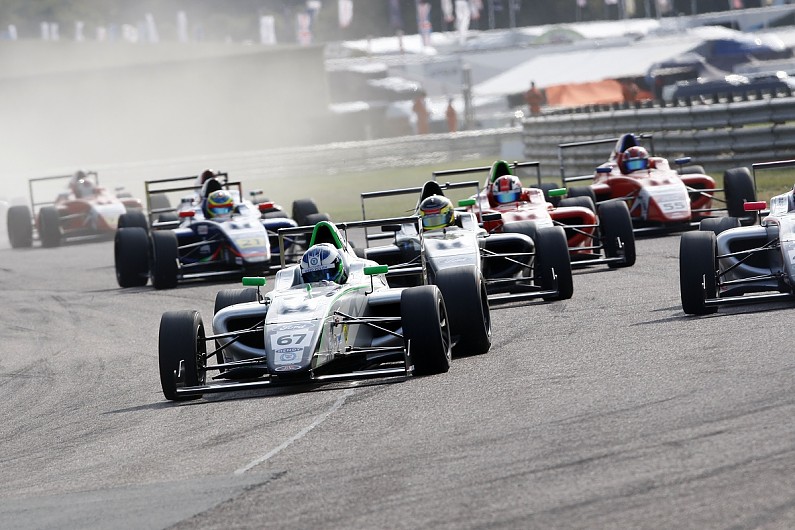 Thruxton TOCA supports: Hedley is F4's latest hat-trick hero
Taking a hat-trick in British Formula 4 is supposed to be a rare achievement. It is supposed to happen only every couple of years. And it certainly is not supposed to happen twice in three events.

But no one had told James Hedley that. Just a few weeks after points leader Luke Browning achieved the feat, which is unusual because of the partially reversed-grid second encounter, Hedley secured a clean sweep of his own.

JHR racer Hedley described the opener as his toughest win as he was reeled in by Casper Stevenson. The scholarship winner hounded Hedley, who made a few little errors, and the pair ran side by side, but the Ginetta Junior champion held on. Stevenson admitted he regretted not being "a bit more aggressive at the start" and instead letting Hedley build an early lead.

It was the same top two in the next race as well, despite them starting fifth and fourth. Browning made a good getaway and ambitiously dived up the inside of Zak O'Sullivan into Allard. With Alex Connor also attempting to pass the poleman, the lack of space meant contact was inevitable and it was O'Sullivan who came off worse.

"I was taken out by a rival - I think he was lucky with the penalty he got [five-place grid penalty]," said O'Sullivan. Browning countered: "I got a brilliant start and Alex got a brilliant start and three into one doesn't go. It was just a sandwich and I think I got penalised for it because I was the furthest back."

This left Hedley, who said he was "lucky" to avoid the incident, in the lead and he again triumphed, although Stevenson closed in the latter stages- after soon recovering from being delayed by the Turn 1 contretemps.

Hedley's easiest win then came in race three as he scorched clear from pole, while team-mate Abbi Pulling did an excellent job to keep Stevenson at bay.

"I can't believe it - it's the perfect weekend!" said Hedley. "I think it's the fact it's my local track, it helps give me that bit of extra motivation and the team has done a mega job here [JHR has now won the last six Thruxton F4 races]."

Browning started 10th with his penalty but surged through to fourth. However, another clash - this time at the Complex with Christian Mansell, who careered into Connor - meant he and Connor had their places swapped in the final result.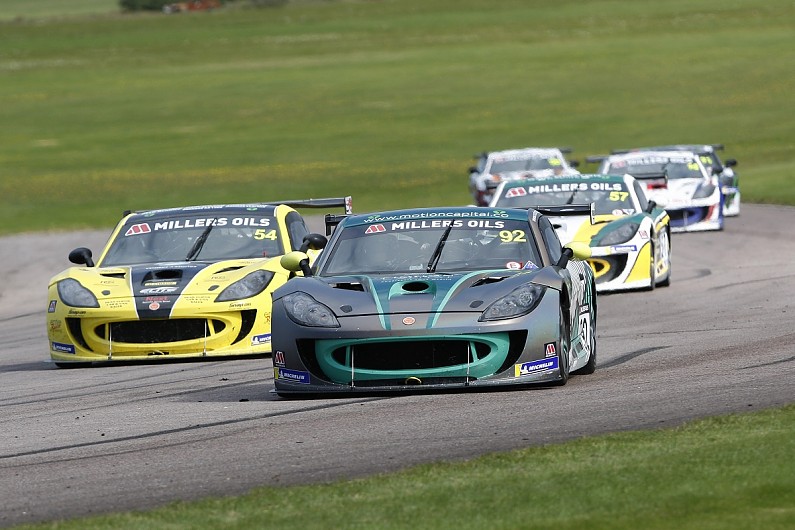 The opening three Ginetta GT4 Supercup events were all about Will Burns, Tom Hibbert and Gus Burton as between them they secured 21 of the 24 places on the podium. But that trio may have to start looking over their shoulders as Jamie Falvey (above) bagged two wins and a fifth place at Thruxton to give them something else to think about.

Falvey's win in the opening race did, admittedly, have some good fortune to it. Polesitter Burton and fellow front-row starter Adam Smalley - the only other driver to have taken a win so far this year - collided at the Complex on the first lap and were both out of the race.

"It could've should've would've been a win," admitted Burton. "I got a good start and pulled ahead by one or two car lengths. I went round the first complex and braked late, as I normally do, but my team-mate [Falvey] and Adam were battling and three into one doesn't go."

Falvey, who had already passed Burns through Allard, therefore inherited the lead. And he maintained it upon the restart after a lengthy safety-car period to recover Burton's car, keeping Burns and Hibbert at bay to the flag.

But there was nothing fortunate about Falvey's second win. He scampered clear from pole into the distance as the rest squabbled behind, eventually winning by over three seconds. Behind, Burns made a poor start and this dropped him into the clutches of Reece Somerfield, who chopped across Burns heading into Allard, delaying him further and forcing Somerfield out.

It meant Hibbert was up to second but had Smalley, Burton and Burns right in his wheeltracks for much of the contest. Eventually, that pressure told as Hibbert ran wide at the Club chicane and dropped to the tail of the pack across the startline, allowing Smalley and Burton to complete the podium behind Falvey.

The partially reversed-grid finale proved to be a letdown. Despite the top four running very close together throughout, there were no position changes and Hibbert led home Burns, Burton and Smalley. Falvey did briefly get ahead of Smalley off the line, but the Elite Motorsport driver fought back through the Complex. Falvey then began to lose ground, struggling on old tyres, and stayed fifth.

The results nevertheless bring the Century Motorsport man to 56 points off the summit, as just seven separate that leading trio.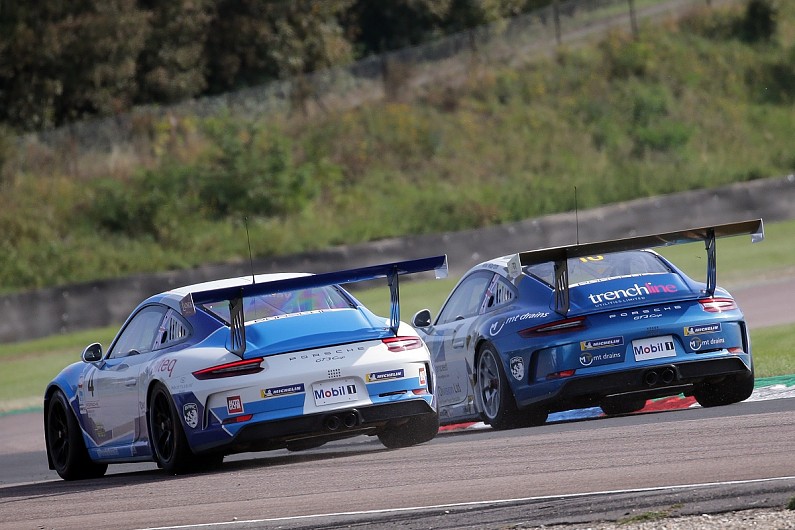 Harry King's dominant Porsche Carrera Cup GB streak continued at Thruxton, but his winning run ended thanks to not one, but two left-rear-tyre blowouts on the bruising Hampshire speedbowl that allowed fellow series rookie Will Martin (above right) and Ross Wylie to take surprise wins.

King was absolutely miles in front in the opener when, on the 18th lap of 20, his Team Parker Racing machine got its first puncture. Martin had got the better of front-row qualifier Lorcan Hanafin into the Complex on the opening lap, with series veteran Josh Webster following him through. A frantic mid-race battle between Martin and Webster ended in the Ginetta Junior graduate's favour and, once King's tyre had failed, the youngster held off Webster to the finish, with Hanafin third.

King's first-race drama put him seventh on the partially reversed grid for race two, but by the end of the 10th lap he had passed the In2 Racing car of early leader Wylie to move in front. Four laps later, his left-rear exploded at Allard to end a miserable day.

Webster had made progress in his Parker entry and was catching Wylie, only for him to suffer a puncture on the penultimate lap. And, with Redline Racing pairing Scott McKenna and Matthew Graham also getting blowouts, that enabled the low-key Hanafin and Martin into second and third.

"Hindsight's a horrible thing and you think, 'Should I have backed off?'" said a dejected Webster. "But I was dead set on catching Wylie. We have to look at whether we come here again."

A red flag in each of the Mini Challenge Cooper class contests meant there was not that much actual racing at Thruxton. But when the track was under green flag conditions the action was frenetic.
INSIGHT: Why national driving standards are slipping again
Ben Kasperczak initially led the opener, before briefly losing out to Dominic Wheatley and Leonardo Panayiotou, but Kasperczak soon reclaimed the lead when Panayiotou ran too deep into the Club chicane. Kasperczak took the win when the race was ended early after Bradley Gravett and Brendan Fitzgerald clattered into the Club barriers despite yellow flags flying.

Kasperczak and Archie O'Brien - who was second in the opener - then had a ding-dong battle in race two, but this was halted after a horrible shunt for Clark Wells (above). Alex Jay looked to have won the four-lap restart but cut the chicane to get ahead of Panayiotou - up from 22nd on the original grid - and was demoted to second.

An incredible move around the outside of a bunch of cars into the chicane netted Andrew Langley the win in the finale. Both Kasperczak and Harry Nunn led the race afterwards but another red flag - as the chicane was littered with Recticel stacks - meant they ended up second and eighth.

The most points that had separated Tom Lebbon and Bailey Voisin at the head of the Ginetta Junior standings after a weekend prior to the Thruxton event was nine. But it was a very different story after the Hampshire weekend as Lebbon left with a 19-point advantage.

The first race of the weekend followed the 2020 script. Lebbon and Voisin duly qualified first and second and were soon embroiled in another tussle. At one third's distance, Voisin went round the outside to take the lead at the Club chicane but Lebbon was able to power back ahead out of the corner, as Freddie Tomlinson also snuck past R Racing team-mate Voisin.

But Tomlinson's own attempt for the lead at the chicane ended with him facing the other direction and allowed Voisin another go. On lap 10 of 12, he made the move stick successfully, again around the outside at the chicane, to take the win, while Josh Rattican relegated Lebbon to third on the final tour.

The second contest did not follow the 2020 script, however. Voisin had already dropped back when he was involved in a collision with Rowan Vincent and Trennon Bettany out of the chicane that caused a red flag. On the five-lap restart, Rattican made a brilliant start to grab the lead and headed Lebbon home.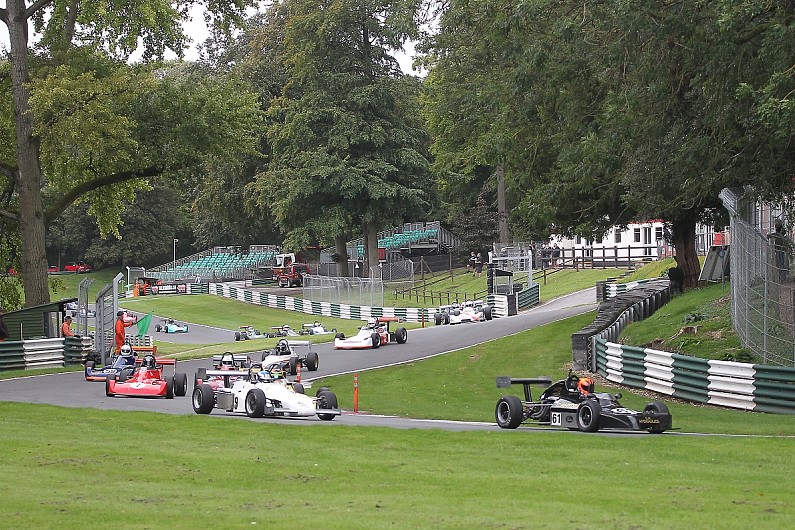 Cadwell Park HSCC: Impressive Grant lands the Wolds Trophy

Historic Formula Ford 2000 took centre stage in a magical Wolds Trophy event, the 35-strong entry - the best 1975-81 Pinto posse in years - meriting twin qualifying heats and finals, all hotly contested.

Just as the movement started at Cadwell Park in 2007, when Iain Rowley triumphed in a Delta, Callum Grant won in one of Patrick Head's designs. Grant withstood enormous pressure from Benn Simms (Reynard), who survived a hairy spin at the Gooseneck second time out, to ace both Sunday features, the latter at record pace.

From object lessons in rolling-start discipline, with the colourful field in close company, Grant and Simms dropped Ian Pearson (Royale RP30) and Peter Drennan (Reynard) in the finals. Sunday morning's contest included a safety car period while Brian Morris's Reynard was plucked from The Mountain's barriers. Among a record turnout of Pre-'79 cars, Stuart Pearson (Lola T580) earned direct entry to the finals and bagged a stellar fifth in the first.

The heats - for competitors outside the top five in each practice group - were superb. In Saturday's, Classic F3 convert Adrian Langridge repassed novice Ben Glasswell, with dad Stephen's similar Reynard in tow. Circuit neighbour Lee Bankhurst (RP30) snatched Sunday's win, diving past Greg Robertson's oily Reynard at the Hairpin on the final lap.

Both Historic Sports Car Club Road Sports staples delivered big grids and fine racing. Jeremy Clark twice outran Kevin Kivlochan (Morgan +8) in the 70s set, in which Dave Karaskas (TVR 3000M) and John Williams (Porsche 911SC) enjoyed mega scraps, but Charles Barter's Datsun 240Z overheated again. In Class D, Antony Ross (Alfa Romeo 1750 Spider) and Pip Hammond (Porsche 924) each beat the other by fractions.

Kivlochan put Will Plant in the Moggie to bolster Class A in the Historic field, then watched him win Saturday's race from the pits after his AC Cobra's throttle return spring broke. 'KeKi' was passing the Cafe when the field was released for Sunday's rolling start, thus was almost 30 seconds down at the timing line. Plant pulled-up at the summit of The Mountain when the Rover V8 engine's oil pressure flagged and, as Paul Tooms took the chequer from Jonathan Rose (in Tooms' old Elan), Kivlochan was 4.7s adrift of class winner Peter Garland (+8)!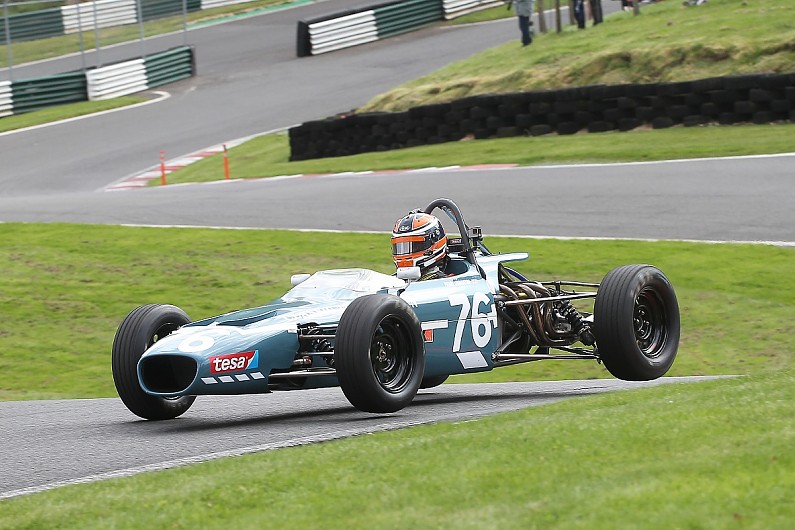 Hotfoot from his Oulton Park Historic Formula Ford double - and with the non-championship Kentagon Cup win over Ross Drybrough and Tim Brise for confidence - top qualifier Pierre Livingston stretched his slender points advantage over Cameron Jackson with another pair and a lap record. Despite tweaking his March 709's nose in the tussle for second with Linton Stutely, Jackson led the opener mid-race, before Livingston retaliated.
The second rolling start was poorly executed, and pivotal, for Livingston shot clear immediately. Jackson spun through 720 degrees at Charlies, but salvaged third behind Stutely.

Jackson dominated the Classic FF1600 rounds in his Van Diemen. He had Rick Morris beaten before the defending champ spun at Charlies on Saturday, leaving Jordan Harrison second, fending off Craig Currie and Mike Gardner's noseless Crossle 32F.

On Sunday, Gardner planed another nose off in muscling through to second, ahead of Currie, Jordan Harrison and Samuel Harrison, from the back. Gardner traded the lead with Harrison S in the Old Hall Trophy 'fun race' finale until they collided entering The Mountain abreast. Gardner's car, on the outside, flew into the barrier. Harrison J, with a grandstand view, gratefully accepted victory from Currie.

There were new winners on both sides of the Classic Clubmans equation. Behind two A-Sport cars, the FF1600-engined duels between Tom Dunstan in the Ken Harrison-originated Penfold and ex-motorcycle racer Tommy Eustace (Mallock Mk18) were tight. Dunstan repassed Eustace with a last-ditch lunge on Saturday, but the latter turned the tables in race two for his maiden win. Out front, Yorkshireman Adrian Holey pulled away from stalwart Mike Lane on day one. Once Holey released a bag of Pontefract cakes from his belts, he caught Lane in the sequel but Lane spun at Chris Curve.

After Roger Stanford's Lotus Cortina had retired on Saturday, Peter Smith repeated his Oulton Touring Car double relatively easily, chased by Mark Watts' Ford Mustang, which had half the field in tow. David Lloyd's 6.3-litre Chrysler-engined Jensen CV8 set a class record before gearbox maladies intervened in the opener.

Reports by Kevin Turner, Mark Paulson, Stephen Lickorish, Marcus Simmons and Marcus Pye. Pics by Jakob Ebrey Photography and Mick Walker. Want the full picture from last weekend's national racing, including more event reports? Subscribe today and never miss your weekly fix of motorsport with Autosport magazine