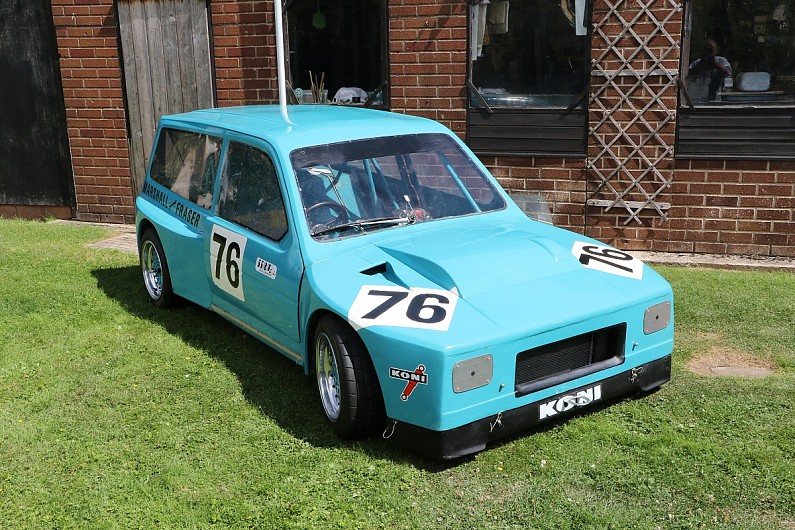 It's 60 years since the Marshall & Fraser team first formed and now one of its successful machines, the Reliant Kitten, is set to go on the prowl once more
Reliant of Tamworth's 850cc Kitten was a utilitarian niche-market four-wheeler with no pretension to performance beyond economy. The sensational track-burning namesake with which renowned Aylesbury motor engineers Marshall & Fraser dominated one-litre Special Saloon events through the 1980s was a significantly less frugal feline, which borrowed nothing from the original Ogle design but its glass-reinforced plastic profile.
Now, after almost 30 years in hibernation, the team that evolved the multiple championship-winning legend - and has more than 100 race wins on its CV - has awoken the Kitten and sharpened its claws for a racing return. Not just to evoke memories of glory days past but also, one suspects, to enhance its impressive pedigree.
To begin to understand the world's fastest Kitten, we need to go back to its roots in the immaculate Mini Traveller, with which Stephen 'Ginger' Marshall, now 77, earned considerable success in the 1970s. Constructed around a beautifully neat M&F designed and built aluminium monocoque chassis, carrying elements of an optimised Mini front subframe and beam rear axle, the longer-wheelbase derivative of Sir Alec Issigonis's masterpiece proved the aerodynamic advantages of the traveller's extended roofline, reproduced in a skin of thin fibreglass.
When its hot short-stroke BMC A-Series '970S' engine - by then fitted with ultra-light Duralumin valve gear - ran out of puff, the brains behind the project, focused by Ginger, older brother David and Ian Fraser, grafted a cut-down Hillman Imp cylinder block onto a Mini gearbox with Jack Knight internals. This was ready in the summer of 1977.
The ultra-professional conversion - make no mistake, we are talking clever boffins here, not lock-up tinkerers turned weekend warriors - showed promise but, perhaps inevitably, weaknesses emerged as they endeavoured to make it reliable. By the end of 1979, when, as David Marshall recalls, it "blew to smithereens at Silverstone", they felt they had exhausted the car's potential. "The Mini had reached the end of its life, but we're racers. We just wanted to go quicker."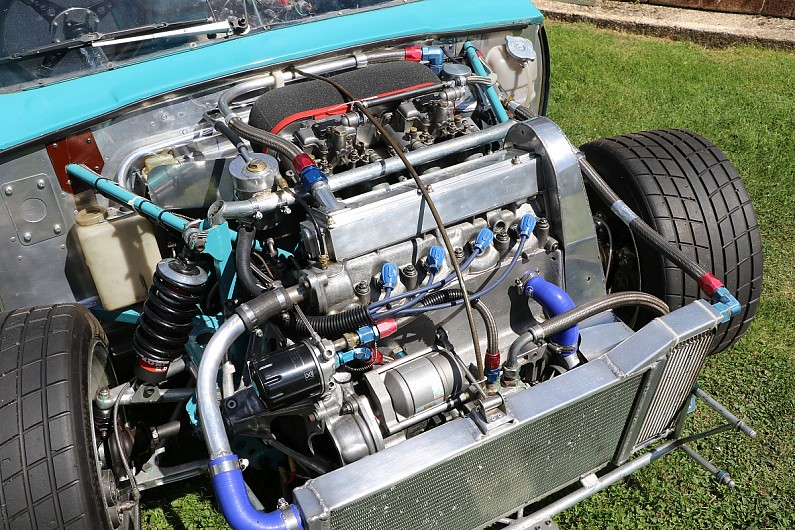 The answer was to go the whole hog and develop a bespoke engine. "We wanted a stiffer block than the [venerable] Imp's so decided to make our own," he says. "A retired patternmaker in Poole did a test casting, then once we were happy with it another three or four blocks were made by a company in Milton Keynes." Purposefully stout-looking, it retained an Imp cylinder head - inspired by Andy Chesman of Greetham Engineering - fed by Dellorto 45 DHLA carburettors, but its power output was a closely guarded secret.
"We'd learned a little bit about aero, but the Mini estate's shell, even with aluminium sides, one-piece fibreglass front and roof, weighed around eight and a half hundredweight [425kg]," says David. "What we ultimately needed was a lighter successor incorporating everything we had learned from it to enable us to move on to the next level."
As Ginger's brother-in-law Brian Davies noted: "An interesting team observation from the Mini was that when Ginger pulled up in the pitlane or at the podium after races, a pronounced depression had appeared towards the rear of the roof, indicating the downforce being generated."
The combination's performance continued to open rivals' eyes and made it a fans' favourite as it repeatedly slayed giants wherever it competed around the country
David explains: "The Kitten's shell is six inches narrower than the Mini's and - by the time we'd sawn the bottom off it - no taller. With a similar wheelbase, its increased front overhang allowed more efficient radiator positioning and the longer sloping front and greater windscreen rake help the aero.
"The bonnet does more work. Making the [subtly flared-arched] body from a bare shell and positioning it carefully on the proven running gear, all done in-house and within the Special Saloon regulations, was a starting point. We also needed bigger brakes, which 13-inch wheels [that wouldn't fit the Mini's arches] accommodated."
The crowd-pleasing Traveller body lived on, incidentally, clothing a John Maguire spaceframe chassis commissioned by local hillclimber John Meredith. The Reliant was also 'converted' from rear-wheel drive to front. "Special Saloon regulations specified that the engine and gearbox must remain in the same half of the car as the base model's, not which end was driven," David clarifies.
Weighing in at under 400kg - less than a 1100cc Formula Junior single-seater or a Formula Ford 1600, to give perspective - the new car took shape over three years of long evenings and weekends and debuted in 1982. Incredibly quick straight out of the box, the Kitten justified the investment of effort, design detail and hard-earned funds.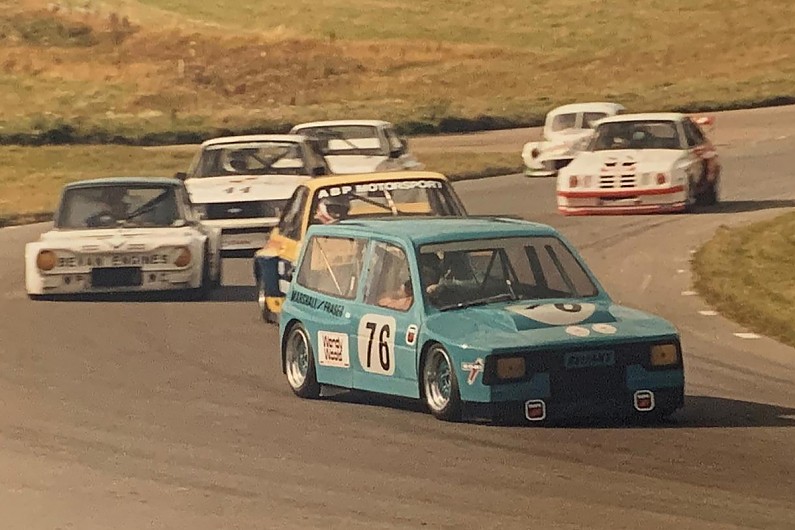 In Ginger's skilled hands, it aced the British Automobile Racing Club Wendy Wools Special Saloons championship five times, twice winning the club's President's Cup for most race wins in a season. "The first time I received it we saw Ayrton Senna's name engraved on it, so that was a special accolade," he says proudly.
The combination's performance continued to open rivals' eyes and made it a fans' favourite as it repeatedly slayed giants wherever it competed around the country. Sub-50-second laps on the old Brands Hatch Club circuit, 48s at Mallory Park and a mind-blowing 1m23.2s (101.94mph) at Thruxton - a phenomenal achievement even now - were staggering. Aerodynamics played their part, indeed much of the Kitten's efficiency is credited to the remarkable underfloor venturi tunnel, which the team evolved through endless experimentation.
"Competition was terrific back then [against the likes of Mike Parkes' brown Maguire Mini, Richard Long's BDA-engined Ford Anglia and Tony Bridge's Imp], as it had been in the late 1970s," says Ginger. "But some of the best racing I ever had was running flat-out, nose-to-tail with Ben Bowlby in his Kawasaki-engined Suzuki SC100 in 1988-89.
"We trusted each other on track and got on extremely well, on and off the tracks, so when his professional aerodynamic work [ex-Lola man Bowlby designed the innovative Nissan DeltaWing among other cutting-edge sports-prototypes] took him to the USA we took over the Bowlby National Supersports project.
"When Clubmans tried to go to rear engines they didn't want us to race 'a car from a bygone age'. So we altered the monocoque, uprated the two-litre Vauxhall red top 16v engine and competed in 'Blobby' wherever we could before finding a welcome home with the OSS from 2009.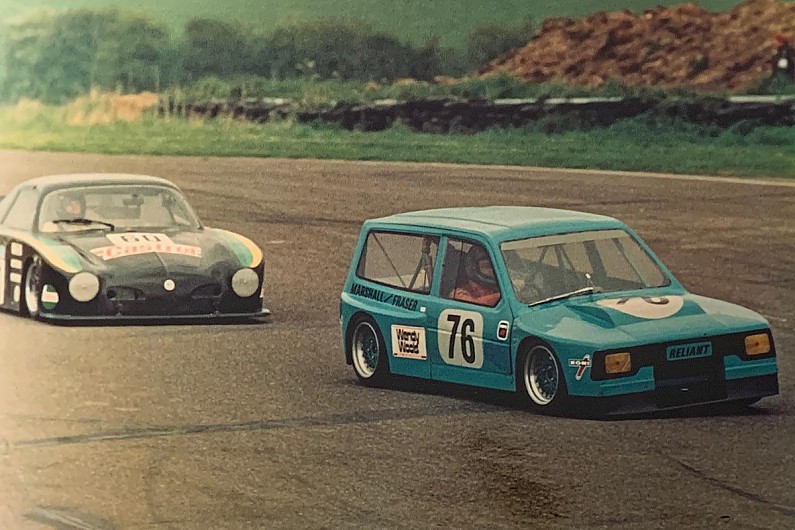 "It was a steep learning curve, but through lots of testing and a bit of 'Dave magic' we found its sweet spot. The car handles superbly, wet or dry - I finished second in the Archie Scott Brown Trophy race at Snetterton in torrential rain - but pulling 143mph and 2.7G lateral loads at Silverstone became too physical for me, so we stopped in 2016."
Despite three seasons out of the cockpit, the traditional 'board meetings' in 'The Shed' workshop at Stoke Mandeville every Saturday - a 150-mile round trip from Sussex for Brian - have continued, and the boys all miss racing. In the course of these socials they hatched a plan to recommission the Kitten, then set to work with boyish enthusiasm rekindled.
"We've never stopped learning over all these years. That's been our fascination from the start, the motivation behind what we do and why we love doing it" David Marshall
Long-retired from the business they founded, it's back to the future in the M&F team's 60th anniversary year. The little car is now on the button, ready to go and reverted to its original Surf Blue warpaint rather than loyal sponsor Staffhire's battleship grey.
As David concludes: "There's no agenda for the comeback [the Classic Sports Car Club's Special Saloon and Modsports series, its spiritual home, will be enhanced by another blast from the past and its close-knit fraternity can't wait], other than to enjoy ourselves and be competitive.
"Some of the things we've learned from the Bowlby have been put into the Kitten and will hopefully be reflected in lap times. We've never stopped learning over all these years. That's been our fascination from the start, the motivation behind what we do and why we love doing it."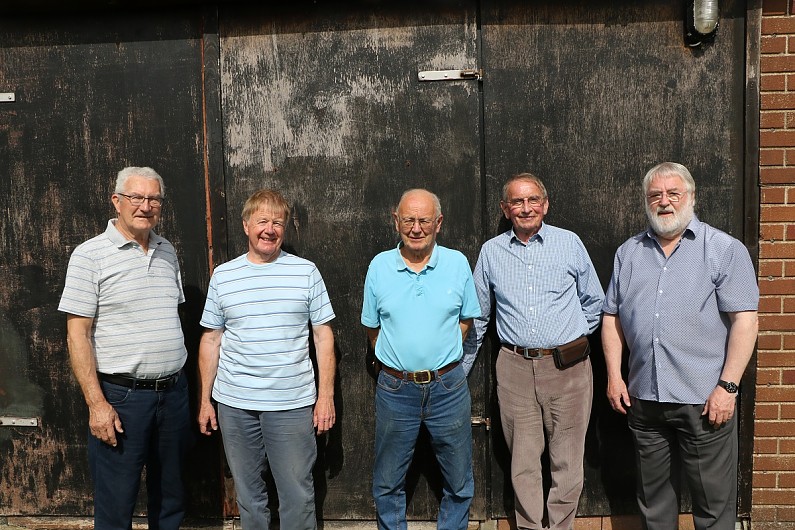 The Famous Five and ginger beer
Socially distanced in Marshall & Fraser's workshop, 'The Shed', the banter is redolent of invincible teenagers, not pals aged 82, 81, 79, 77 and 76, who have pooled their talents and resources to compete for 60 years.
In 1959 David Marshall and Ian Fraser, junior analytical chemists at a steel company, built a 197cc Villiers 6E-engined go-kart from bicycle frames. David's younger brother 'Ginger' was the quickest driver, thus was aboard when the team debuted at Easter 1960. Learning constantly, improved karts followed, the MkIV netting their first win in 1963. An innovative 'hybrid' engine with Spanish Bultaco crank, rods and barrel on a Villiers crankcase pointed to the future.
Ginger's brother-in-law Brian Davies joined the gang in the mid-1960s, bringing expertise in aerodynamics and electronics, and old friend Robin Read was onboard by 2000. David and Ian, meanwhile, had co-written the first of three books on tuning and modifying BMC Minis (published by GT Foulis, an imprint of Marshall Press, run by papa Marshall), fuelling car racing aspirations.
Starting with a used-up Mini 850 - in BMC Surf Blue, now a way of life - lightened with aluminium bonnet, boot and doors, they arrived at Silverstone in September 1966. By 1969 a fresh shell had its steel panels replaced by glued and riveted aluminium replicas. With an M&F-built short-stroke engine Ginger won 13 races, and the BARC Osram-GEC championship's 850cc class, before selling the car to Graham Janzen.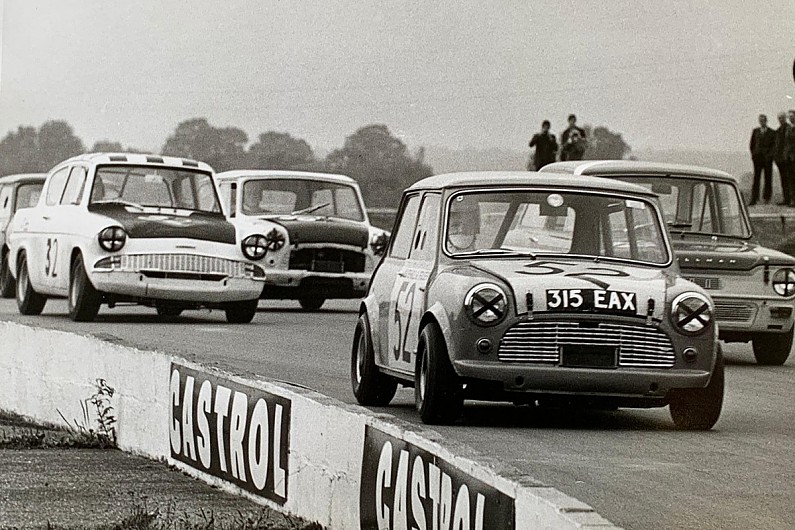 The Marshalls then quit their jobs (Ginger had been apprenticed to an Austin dealership) and from 1970-74 established a successful garage business in Aylesbury, with Fraser as sleeping partner. Racing was set aside, but their competitive juices stirred on. The mighty Mini Traveller 'Special Estate' was the embodiment of much thought and toil. Powered by a BMC 970S engine, Ginger pedalled the machine to seven wins and the BARC Forward Trust 1000cc title in 1976.
Its specification evolved, becoming ever more interesting and, reclothed in Reliant Kitten panels, the team ruled the roost through the 1980s. Battles with aerodynamicist Ben Bowlby's home-brewed Suzuki SC100 then opened the next chapter.
Taking on Bowlby's sports-racing project in the late 1990s, initially in Clubmans Vauxhall spec, presented different challenges. Needless to say, our heroes rose to the occasion magnificently. Their hunger for knowledge and passion for testing honed the Bowlby Mk2 into an ultra-reliable class winner in OSS races.
By 2016, the rigours of driving the UK's quickest front-engined race car were taxing Ginger's strength, thus the Famous Five resolved to recommission the Kitten. Special Saloon fans too young to have witnessed it in the 1980s are in for a treat as it awaits the opportunity to hit the tracks again. It's a similar story with the Bowlby, which - proven by Matt Manderson - is for sale, seeking a stronger, younger, pilot.