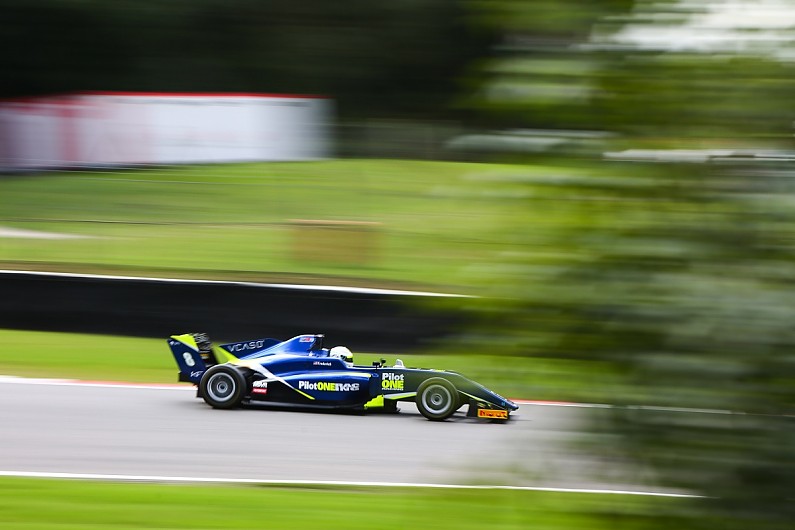 A calamitous BRDC British F3 weekend for former table-topper Kaylen Frederick shows how quickly fortunes can change, underlining the importance of regularly scoring points, says STEFAN MACKLEY
With three wins under his belt from the opening seven races, a handy 29-point lead in the standings and momentum behind him, Kaylen Frederick had arguably already become the favourite for this season's BRDC British F3 title after just two events.
The American - returning for his sophomore season - had been the class of the field and also scored a fourth win on the road in the opening race of the year at Oulton Park before he was handed a time penalty for a false start. Each of his wins has generally come in a dominant fashion.
But if ever there was the epitome of a nightmare meeting, it's what the Carlin driver endured at Brands Hatch last weekend.
After sliding off into the gravel in a damp qualifying session, Frederick was forced to start the first and third races - determined by a driver's two fastest qualifying laps - from the back of the grid.
Trying to make up places in race one, he collided with Lanan's Piers Prior at Surtees on the opening lap, receiving a reprimand and two penalty points on his licence for an abusive gesture, while Prior received four penalty points and was disqualified for his part in the incident.
The pair collided again in race three along with Manaf Hijjawi at Graham Hill Bend after a safety car was called, with both Frederick and Prior receiving a further four points on their licences for ignoring yellow flags and being disqualified from the result.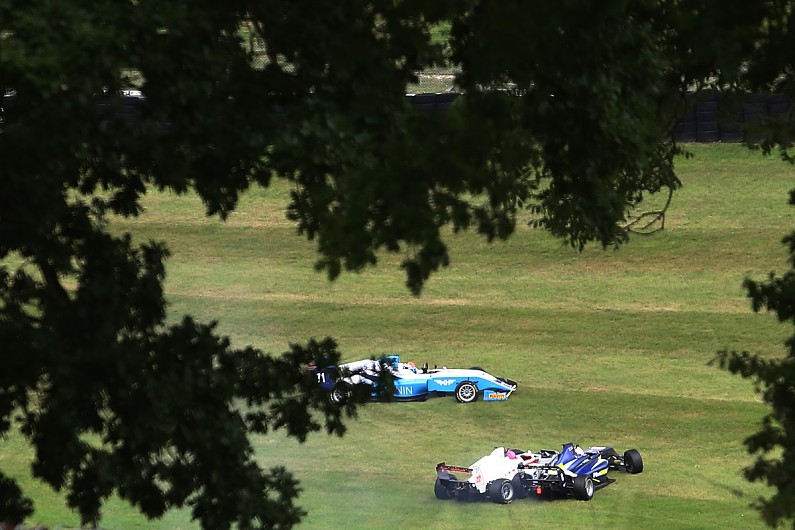 "I'm not saying it's OK [the abusive gesture], but I was just so frustrated in the car," says Frederick, who added he was in "no man's land" for the second incident as he didn't see the yellow flags, due to the cars in front. "It all traces back to qualifying where we got a poor result. That will be the biggest thing moving forward - you can't have an issue in qualifying.
"We've spent the whole weekend on the backfoot. Consistency is the key and that's what we will be aiming for in the future."
Consistency. There's that word again. When writing the review of the 2019 British F3 season, it was something mentioned in almost every conversation this writer had with a driver.
Clement Novalak, who was Frederick's team-mate at Carlin, won the title last year having led the standings from the very beginning - only recording two wins all season but not a single retirement. In contrast, runner-up and 2019 Aston Martin Autosport BRDC Young Driver of the Year Award winner Johnathan Hoggard was comfortably the fastest driver in the championship, amassing seven wins but crucially two DNFs, and a general lack of consistency cost him the crown.
"The biggest difference from this year to last year is everything is just much closer. People only look at the results but if you lose a tenth in qualifying you lose two places" Kiern Jewiss
And a similar story is emerging this season. Kush Maini - who finished third in the 2018 standings - was a late addition to the 2020 roster with Hitech GP after his plans to compete in Formula Renault Eurocup with R-ace GP fell through due to the coronavirus pandemic. But the Indian driver now leads the standings having finally got his first win of the campaign in race four at Brands and a further two podiums over the weekend.
"In 2018 we were one of the quickest cars out there but still came nearly 200 points behind, so this championship is all about consistency," says Maini, who has not yet confirmed if he will compete in all the remaining races this season.
Just 29 points behind Maini is 2018 British F4 champion Kiern Jewiss, another driver in his second season of F3 and who also only has one win to his name in 2020, having benefited from Frederick's Oulton post-race penalty. The Brit is the highest-placed of the 2019 drivers to continue in the series after finishing fourth last term and amassing the most points of any driver in the second half of the season.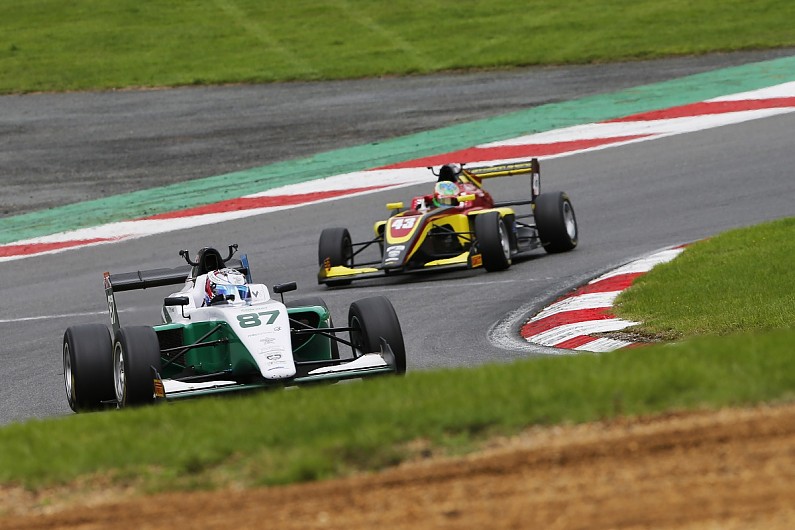 "It's not easy and the biggest difference from this year to last year is everything is just much closer," he says. "People only look at the results but if you lose a tenth in qualifying you lose two places."
Within 20 points of Jewiss are British F4 graduates Josh Skelton and Louis Foster, followed by Frederick, and with another 13 races planned across four rounds, the title race is very much alive. For neutrals that will be a relief having seen one driver dominate the championship in recent years, such as Enaam Ahmed and Linus Lundqvist in 2017 and 2018 respectively.
A new dynamic for this year has also been the addition of a fourth race at some rounds due to the condensed calendar, with a driver's best two laps from the previous three races determining that grid. Factor in the full-reversed grid race two and, perhaps more than any other championship in the UK at the moment, consistency is the single most important element to claiming the British F3 title.
Like it or loath it, consistency will always be an element of any championship, but there remains a fine line between drivers wanting to settle for points or attempting a race-winning overtake. And that's the conundrum Frederick will have to grapple with as he attempts to reclaim his lead.