A superb opening stint from gamer-turned-racer James Baldwin should have resulted in a second 2020 win for the Jenson Team Rocket RJN McLaren at Brands Hatch. But an unfortunately timed safety car gave Barwell Motorsport pairing Rob Collard and Sandy Mitchell the chance to snatch victory - and the championship lead.
Baldwin was fastest in Am qualifying and although co-driver Michael O'Brien was only eighth in the Pro session he was quick enough for the car to take the combined-times pole. Baldwin ensured that hard work of his mechanics - who had stayed up until 3am changing a turbo - didn't go to waste as he held off fellow front-row man Collard at the start of the two-hour contest and then drove into the distance.
With third-man Ian Loggie's defensive driving holding off both 2 Seas McLarens, Collard was the only one with a clear run at Baldwin, but the Lamborghini could not match the 720S. Baldwin was nearly half a minute clear of the ex-British Touring Car driver at half-distance - as the 62-minute pit window opening mark approached.
Neither leader had any success penalty to serve from the previous race at Donington Park, so Mitchell would have had his work cut out to get anywhere near O'Brien if things had stayed green. But they didn't.
Jordan Witt had jumped 2 Seas team-mate Angus Fender while they both challenged Loggie early on. He barged his way by the Mercedes at Stirlings on lap 14, with Fender following through, and was nicely established in third. Then he went down the inside of Donington Park winner Nick Jones's Bentley at Hawthorns to lap it. It was a marginal move, but Jones also seemed slow to fathom what was happening and contact was made. The Bentley was deposited into the gravel, unable to get out, bringing out the safety car.
It was still too early for the GT3s to stop, so Baldwin had to sit there as the rest of the field closed up. When the window did open almost all the GT3 runners peeled in and Barwell jumped RJN in the pits, Baldwin suggesting crucial time was lost following a course car down the pitlane.
At the restart Mitchell thus led O'Brien, Fender's co-driver Dean Macdonald, Yelmer Buurman (in for Loggie), the similar RAM Mercedes of Patrick Kujala, and Franck Perera, the latest partner for Michael Igoe in the WPI Lamborghini. The evenly matched nature of the Pros, including the Silver-Silver drivers, was once again demonstrated as everyone struggled to make a serious attack on the car ahead. Mitchell and O'Brien exchanged tenths, but a change of position looked unlikely.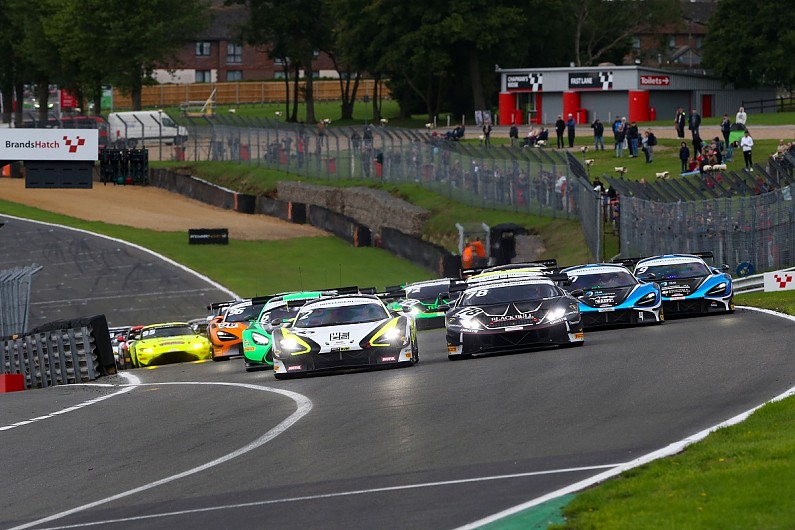 O'Brien got one more chance at another restart, thanks to a safety car caused by a tyre blow-out for Jordan Collard's GT4 McLaren, but Mitchell proved equal to the challenge. Thanks to the position of the backmarkers, the top six were well clear of the rest - and with 10 minutes to go there was less than a second between each car. But even though things got a little tight as the leaders navigated their way past the fraught GT4 contest, the positions remained the same.
Mitchell crossed the line just over half a second clear of O'Brien, with Macdonald absorbing the pressure from Buurman to take third. That was until the 2 Seas car was handed a 40s penalty for an unsafe pitstop release, dropping it to 11th.
But what of the championship leaders arriving at Brands? Adam Balon and Phil Keen had a dismal race. Balon started 10th, fell to 11th and was lapped just before the first safety car period, then pitted a lap after most of the GT3 runners. Keen set the race's fastest lap shortly after climbing aboard, but he was never going to make up the lost ground and came home a point-less 12th.
Things weren't much better for returning four-time British GT champion Jonny Adam in the Beechdean Aston Martin he shared with Andrew Howard. Adam had been third quickest in the Pro qualifying session - behind Buurman and Perera, and ahead of Keen - and Howard's effort meant they lined up fourth. But Howard looked timid in the opening laps and quickly fell down the order. He even dropped behind Balon, though managed to get back ahead as the safety car was called.
Adam just got back onto the lead lap during the pitstops, but couldn't make progress despite almost matching Keen's best lap. He ended up ninth, boosted by the 2 Seas misdemeanour and a drivethrough penalty for the Optimum McLaren of Ollie Wilkinson/Lewis Proctor after the former had been adjudged to have overtaken one of the GT4s too soon at a restart.
The trials of the established stars again highlighted the strength of the Silver-Silver pairings in British GT. Collard and Mitchell now lead the standings by 16.5 points, but the well-balanced duo of Baldwin/O'Brien must also be regarded as a serious threat.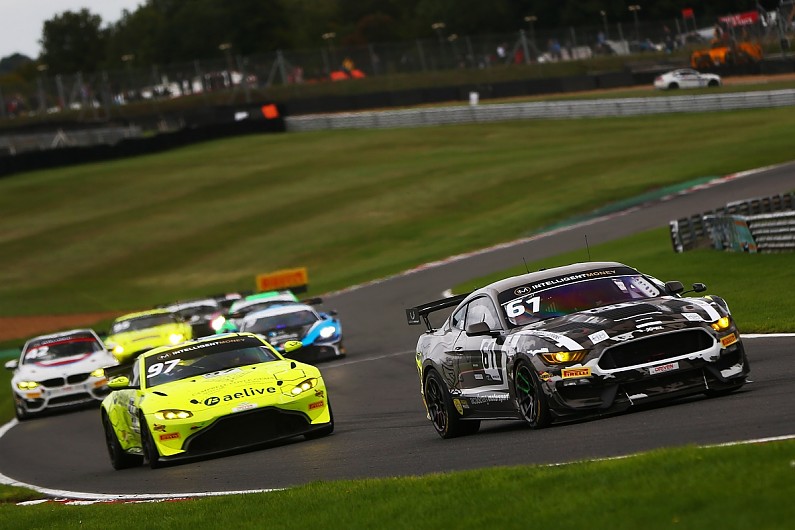 Ford beats Aston Martin in GT4 as TF Sport drivers collide
After qualifying it seemed as though the TF Sport Aston Martin team would be making it four GT4 victories from five 2020 British GT starts at Brands Hatch. The pair of Vantages topped both Am and Pro sessions, and polesitters Connor O'Brien/Patrick Kibble were more than a second clear of the best non-Aston on combined times. But in a dramatic race, the reigning teams' champion was beaten.
The race began well enough for TF, with O'Brien holding the lead from his championship-leading team-mate Dan Vaughan. O'Brien started to edge away, but the first hint that this wouldn't be a straightforward cruise to victory came when Sam Smelt overtook Vaughan.
The new-for-2020 Speedworks Toyota GR Supra had qualified third, but still it was something of a surprise when Smelt started chipping away at the six-second gap to O'Brien.
The Aston's advantage was under 2s as the pit window approached and, when Richard Neary's GT3 Mercedes tapped O'Brien into a spin at Druids, Smelt took the lead. The Toyota, however, was not the only threat to TF thanks to Jordan Albert.
Academy's Ford Mustang had qualified eighth of the nine GT4 runners, but hard work from the team overnight paid dividends. The Century BMW M4 of Andrew Gordon-Colebrooke jumped the two HHC McLarens at the start and proceeded to hold them at bay. That seemed to have made GT4 into a three-horse race as the Astons and Toyota escaped, but Albert soon overcame both McLarens and the BMW. Such was his race pace that Albert was within 5s of O'Brien when the Aston spun, taking third.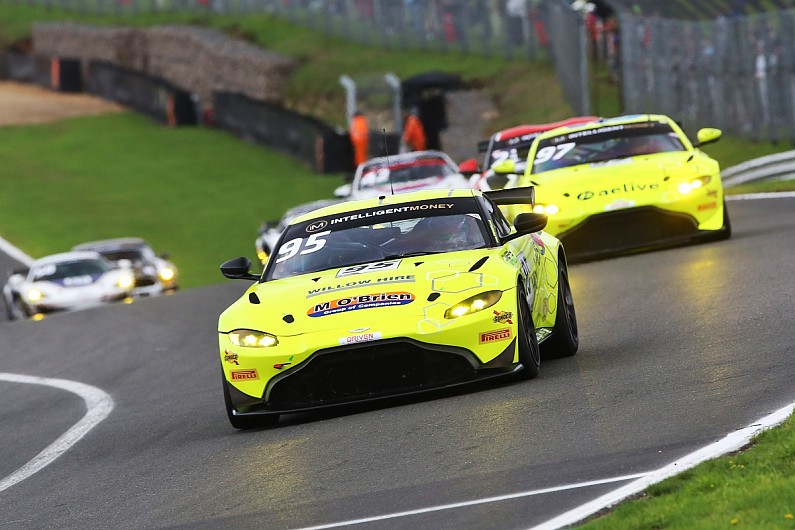 When the first safety car was called most of the leading GT4 runners dived in for their stops, but Speedworks hesitated. "We were just coming up to the 58-minute window [when the GT4s could come in]," said team manager Micky Sergeant. "It was so close that we erred on the side of caution, but it cost us."
Smelt came in a lap later and co-driver James Kell dropped to fourth, then struggled for pace. That left Jamie Caroline (in for Vaughan) ahead, but Matt Cowley boldly went down the inside of the Aston into Hawthorns after the restart to take the lead in the Ford.
After another safety car, Cowley had Caroline, Kibble and Ben Green in the BMW snapping at his heels. But it was the Aston drivers who cracked. First, Kibble lost out to Green in traffic. He fought back and there was contact as they tried to go three-wide with Caroline exiting Clearways. Green made it into second, only for Caroline to switch to the inside and dive back ahead at Paddock Hill Bend, with Kibble taking Green into Druids.
Kibble fought his way by Caroline, who then tried to duplicate his Paddock manoeuvre, though this time it seemed more optimistic. The result was Kibble being shoved into the gravel and Cowley being left clear for victory. Caroline was handed a 40s penalty for causing a collision, dumping him from second to sixth - and handing the points lead to HHC's Gus Bowers/Chris Wesemael.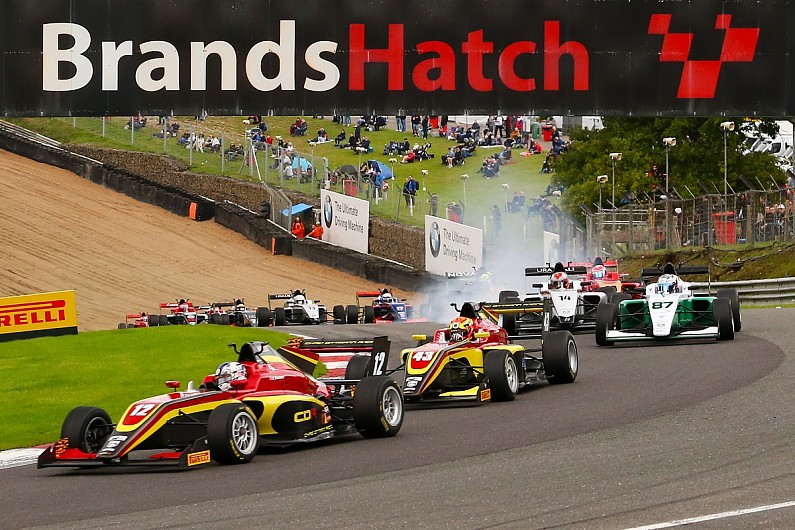 Simmons wins on British F3 return as Frederick endures nightmare
Ayrton Simmons returned to the BRDC British F3 Championship in style with a brace of wins on the Brands Hatch Grand Prix Circuit, as Kush Maini took the lead of the points standings.
Simmons, who finished third in the championship last season with Chris Dittmann Racing, returned with the squad for a one-off outing and was arguably the class of the field at the Kent venue after taking a lights-to-flag victory in both race one and three.
For pre-event championship leader Kaylen Frederick it was a nightmare weekend as he retired from two of the four races, recorded a best result of only 11th and incurred several points on his licence. His misery started in qualifying as the American slid off the road at Druids in damp conditions and was forced to miss the remainder of the session. As lap times improved, his initial attempts put him at the back of the grid.
Trying to make up places on the the first lap of the opening race, he was forced off the circuit by Lanan's Piers Prior on the exit of Surtees and was left beached in the gravel. Although he was able to eventually make it back to the pits, he was unclassified at the finish, meaning he would start at the back for the full-reversed grid second race.
Simmons meanwhile led home Hitech GP's Maini, Douglas Motorsport's Ulysse De Pauw and Double R's Louis Foster - who had made up four places around the outside of Paddock Hill Bend on the opening lap.
With overtaking at a premium on the GP loop, the start proved to be as important as ever and Frederick's Carlin team-mate Nazim Azman made the best launch in the reversed-grid race, moving up from fourth and into the lead by Turn 1.
Despite a light sprinkling of rain mid-race, the Malaysian became the seventh different winner this season as he finished ahead of Reece Ushijima (Hitech) and Bart Horsten (Lanan). Frederick could only take 12th after starting 15th, while 11th for Maini put them level on points.
In Sunday's race three, Simmons led home a CDR 1-2 ahead of Josh Skelton but Frederick endured another miserable outing. With De Pauw in the Clark Curve gravel at the end of the opening lap, the safety car was called, and the deployment of the yellow flags concertinaed the pack together as Prior, Frederick and Manaf Hijjawi collided at Graham Hill Bend, which brought out the red flags.
Skelton - who was jumped by Hillspeed's Sasakorn Chaimongkol at the original start - maintained second at the restart to follow Simmons home as Maini completed the podium.
Having saved a set of new tyres for the final race, Maini checked out from pole as fellow front-row starter Simmons suffered a broken clutch pulling away at the start and retired. His demise allowed De Pauw into second with Foster third, as Kiern Jewiss kept up his consistent form to finish fourth.
Maini leads the championship standings by 29 points from Jewiss, while Frederick's 29-point advantage has slipped to a 49-point deficit and fifth place in the table ahead of the next round at Donington Park.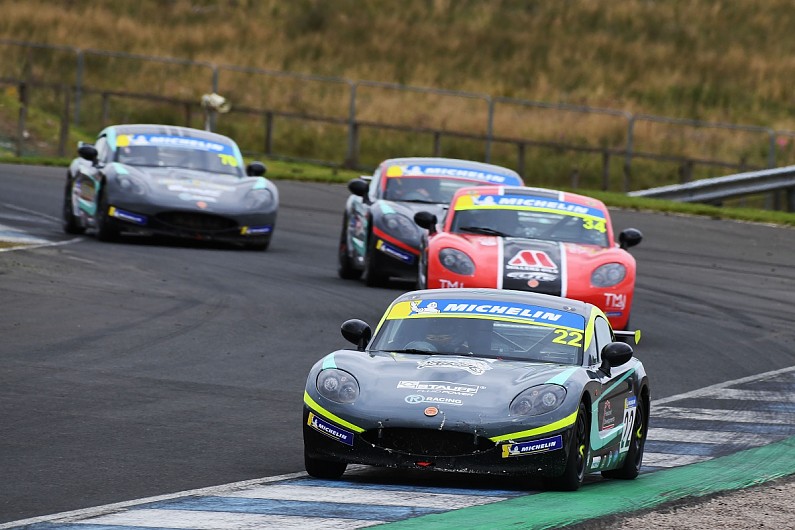 Knockhill BARC: Spoils shared across thrilling Ginetta Junior races
One point separated Bailey Voisin and Tom Lebbon at the top of the Ginetta Junior standings following the opening two events of the season. Three races later, it's now only four points after the title protagonists continued their personal duel at Knockhill.
Voisin started the weekend as one of only three drivers on the 2020 grid to have previously raced at the circuit in the series. That experience seemed to pay off on Saturday as he converted pole position into a lights-to-flag victory in the opening race.
The combination of two safety car periods and a determined Lebbon meant it was a far from straightforward win, however. While defeated on that occasion, Lebbon hit back on Sunday and twice finished ahead of the championship leader.
The duo were in the thick of the action in race two as part of a brilliant multi-car battle over fourth place. A bold dive down the inside of his rival at the final hairpin eventually secured Lebbon the position, despite a late charge from Voisin that included the fastest lap.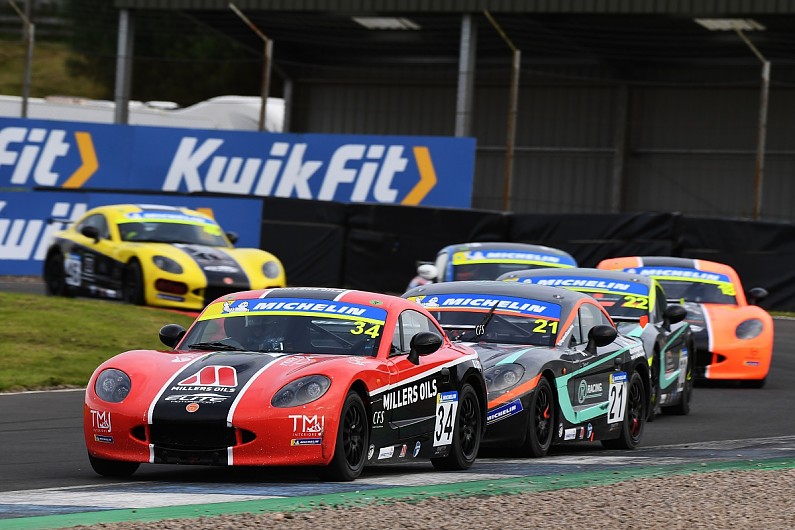 Their battle heated up further in the final encounter. Voisin slipped past for third in the early stages, but a brilliant move around the outside at the final hairpin moved Lebbon back ahead. They both went on to finish on the overall podium. But it's far too early to call it a two-horse race for the title.
Georgi Dimitrov was the star of the show in the Donington Park opener with a double victory and, after a difficult outing at Brands Hatch, he responded in style with a controlled lights-to-flag win of his own in race two in Scotland.
He led the first half of race three as well, but was overtaken in unconventional fashion as a wild moment across the grass at Duffus Dip for Josh Rattican ended with him emerging ahead. He went on to take a breakthrough win by over three seconds to ignite his own title challenge.
One of the standout performances in Scotland came from Will Jenkins. A best finish of 11th prior to the weekend made the privateer an unlikely podium challenger, but he ran as high as second in the opener before being shoved into the gravel. He hit back with fourth in the final race.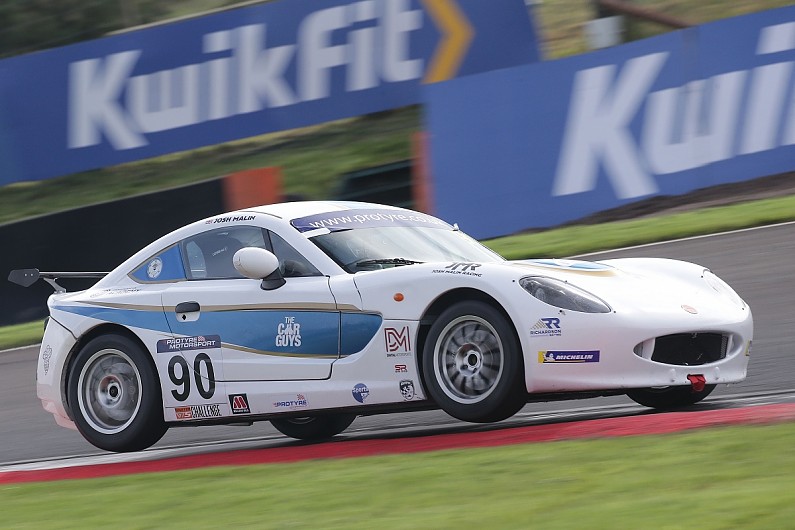 Josh Malin stole the headlines across the opening two events of the Ginetta GT5 Challenge season with three wins in five races - all contested at Oulton Park - and he did it again with a stunning drive from fifth on the grid to victory in Scotland.
On his first visit to Knockhill, Malin fought a technical issue in qualifying to salvage fifth place on the grid for the two races. Limited progress in the opener meant he came home fourth, but he made amends with a determined race-two charge.
An impressive double move on Gordie Mutch and Jonny Wilkinson moved him to second, before he capitalised on a wide moment for James Taylor through Clark's a lap later to take the lead.
"I certainly didn't expect to win that," Malin said. "I had to make every move count, and credit to the other drivers for some brilliant, clean racing."
Second place, coupled with an impressive win in the opening encounter, was enough to move Taylor to the top of the championship standings. Erstwhile points leader Wilkinson had pushed him close in the opener to take second, but he had to settle for fifth in a close-fought race two.
Scottish racer Mutch was in the thick of the action at the front as he took a well-deserved pair of podium finishes to keep himself in touch at the top of the points standings. John Bennett was in the podium mix too as he took a season's best fourth place in the second contest.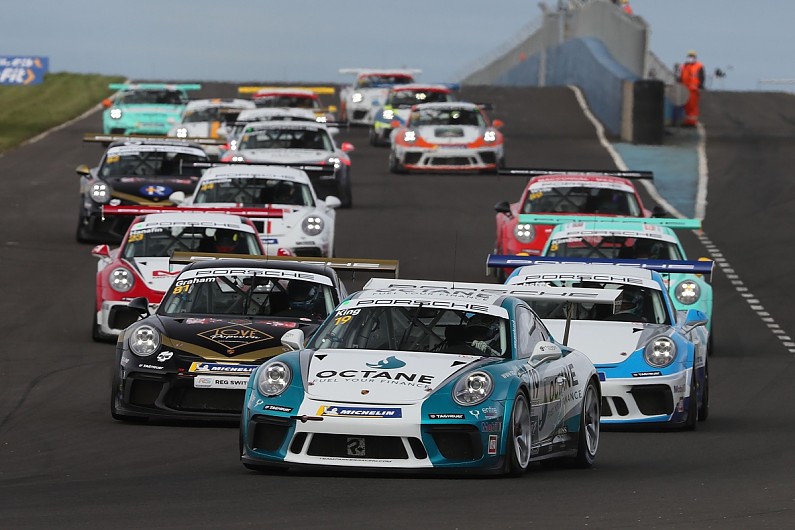 Harry King's domination of the Porsche Carrera Cup GB was briefly derailed at Knockhill when comfortably leading the opener, but he fought back sensationally in race two. A drive belt auxiliary tensioner failed causing a loss of the belt and in turn all the coolant, forcing King to head for the pits.
A quick-starting Matty Graham (Redline Racing) inherited the lead, having jumped King's Team Parker Racing team-mate Josh Webster at the start, while Webster lost early ground fending off Lorcan Hanafin until the JTR racer spun into the gravel. That triggered a safety car that allowed Webster a second chance at Graham, but he was unable to mount an attack, as Ross Wylie grabbed a best-of-the-season third.
King was outstanding in race two. From 10th on the grid he carved his way through the traffic with extraordinary car control despite always looking on the edge of it all going pear-shaped.
He was second by half distance and on the tail of leader Scott McKenna (Redline) as they started the last lap. McKenna made an error exiting the Chicane and, as he defended, missed his braking point for Clark's and went sideways through the gravel giving King the win. McKenna regrouped for second ahead of Webster.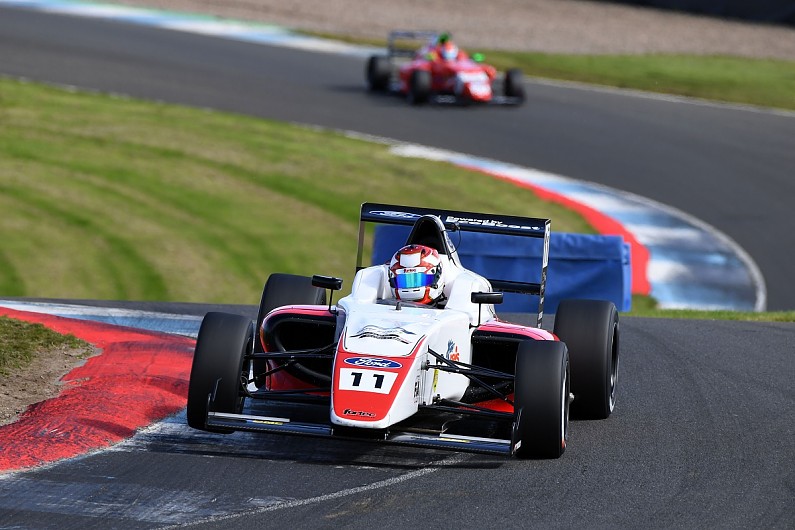 Luke Browning maintained his excellent British Formula 4 form at Knockhill with two more race wins. The Fortec Motorsport driver secured pole for the opener and bolted away from Alex Connor (Arden) to secure the victory, but life was tougher in race two as the semi-reversed grid placed him sixth.
He avoided drama at the opening corner, where polesitter Abbi Pulling was spun into the Duffus Dip gravel, with help from Roman Bilinski (the Arden racer was disqualified and had more points added to his licence), but it was Carlin's Zak O'Sullivan who steered clear of the drama to lead.
O'Sullivan extended that advantage after a safety car period, building his lead as Browning carved through the traffic to secure second spot from Connor and Casper Stevenson (Argenti Motorsport).
Browning was utterly dominant in race three. Starting from pole, he was never headed, even having time to give a closed finger-and-thumb 'all is good' signal to the pitwall!
As Browning took a fifth win to extend his championship lead, with a 4.5-second margin and lap record as well, Stevenson secured second from O'Sullivan, who wriggled past Connor to take the final podium place. Connor then had to fend off the challenge of James Hedley (JHR Developments) who missed out on fourth by 0.7s.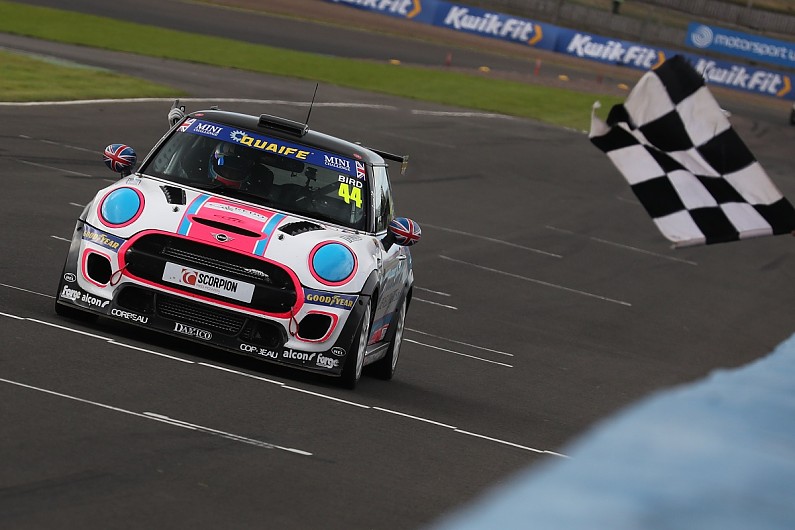 Elite Motorsport driver Max Bird was the star of the Mini Challenge at Knockhill, taking two wins across the weekend. His first came after a sluggish start allowed Joe Tanner (Lux Motorsport) into the lead but, as Tanner's pace faded, he also copped a 10-second penalty for a false start. That allowed Isaac Smith (Excelr8) up to second and Tom Rawlings (Jamsport) into third.
Bird charged away to secure a second win at the end of Saturday, a three-second cushion his margin. He was chased early on by Ant Whorton-Eales (Jamsport), but his car lost pace allowing Jack Davidson (Lux Motorsport) up to second with Dan Zelos (Excelr8) completing the podium.
Bird was caught up in a fractious third race, as contact at the Chicane with Ethan Hammerton put Callum Newsham into the gravel.
Lewis Brown (LDR) had grabbed the lead at the hairpin at the end of the opening lap, snatching the advantage from Ronan Pearson, but it was Robbie Dalgleish who took the battle to him on the restart. Brown edged away to take the win, Smith grabbing second at Duffus on lap 12 of 21, while Bird's race ended in the gravel a lap from home.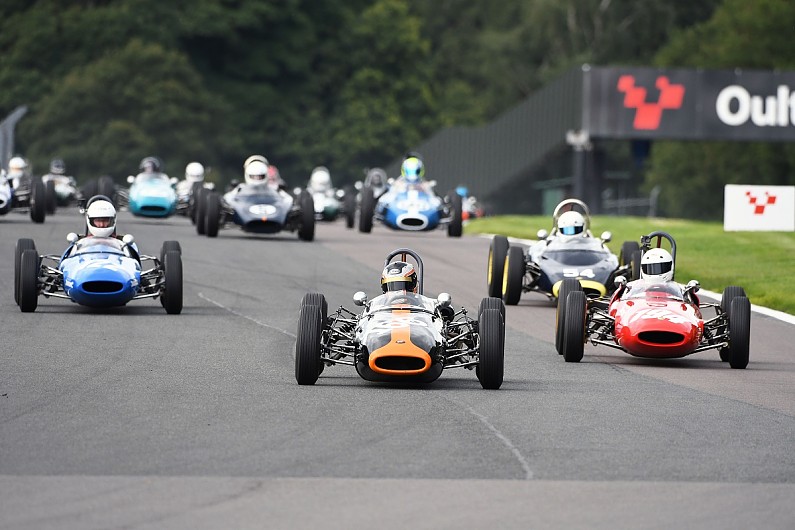 Oulton Park HSCC: Formula Junior king Jackson wins Gold Cup
Formula Junior alumni Jim Clark, John Surtees and Denny Hulme won the Oulton Park Gold Cup non-championship F1 race, thus Count Johnny Lurani's brainchild of 1958-63 was honoured with this year's feature status. Cameron Jackson (Brabham BT2) extended his unbeaten FJ run to four races, screaming to victory in both of Sunday's legs to lift the prize.
Only sometime F3000 racer Mark Shaw could live with Jackson's prodigious pace, but the Scot shattered his ex-Hulme BT6's gearbox in the opener, leaving Jackson to complete a 27-second aggregate victory over Clive Richards (Lotus 22), who shadowed him to the decider's chequered flag. Adrian Russell (22) placed third overall.
"I really wanted to win it, so I slowed to make sure," said Jackson. "Even being cautious [during lappery] I was put on the grass a couple of times. Seeing the list of Gold Cup winners, from Stirling Moss, I feel I'm not worthy."
Nine of Derek Bennett's shapely Chevron-BMW B6s and B8s plunging through Cascades at the start of the one-hour Guards Trophy race was redolent of 1967-68. Andy Newall narrowly won it in the first B6, supplied to Dr Peter Taggart, from Westie and Ben Mitchell in the unique left-hand-drive B8 commissioned by German Nikolaus Killenberg.
B8s were also third and fourth with Charlie Allison (Trevor Twaites' 1970 RAC title winner) and another dad-and-lad pairing Hugh and Mark Colman (ex-hillclimber David Good). Novice Alistair Fazekas graduated from a Ford Ka to the ex-Jon Waggitt Lenham, relaying coach Michael Lyons who hurtled back to fifth.
There was controversy in the Pre-'66 GT split, which John Spiers (TVR Griffith) led to the mandatory 90-second stops, extended from 60s for COVID-19 protocols. Having arrived together, John Davison (Lotus Elan 'Gold Bug' evocation) left after a minute. Post-race he was penalised 90 seconds but was classified on the lead lap, whereas Spiers allowed Newall to lap him last time round to save a circuit...
Two exemplary drives from 2015 Historic Formula Ford 2000 champion Tom Smith netted Aurora victories on his debut in Richard Evans' ex-Gabriele Serblin F2 March 742 (below). Dan Eagling (GRD 273) and Callum Grant (FAtlantic March 79B) ran him closest. Multiple 750 Motor Club champion Tim Gray impressed on his first single-seater drive in Keith Bisp's ex-Ingo Hoffmann March-BMW 762, finishing third on Monday.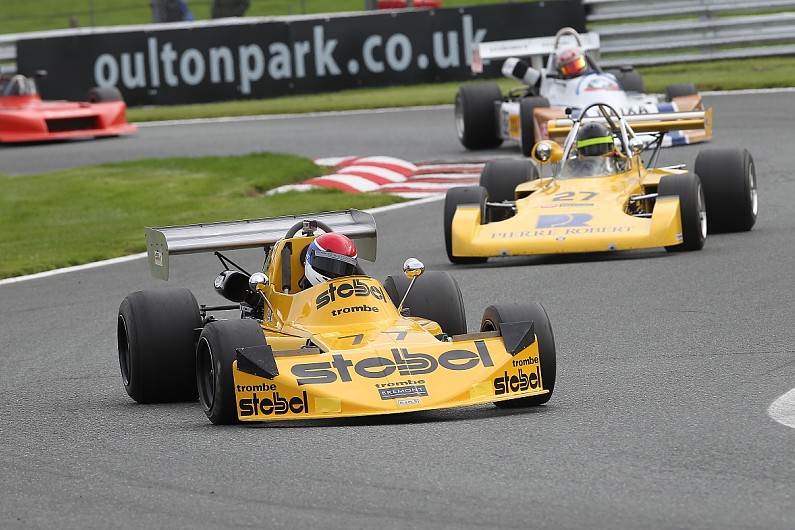 Former North West FF1600 champion Tom Bradshaw blitzed Sunday's Thundersports opener, but a loose wheel shredded a hub on his Chevron B19, forcing retirement on Monday.
With the monster Interserie March 717 of Steve Worrad sidelined by tub damage, Portugal's Goncalo Gomes won the sequel in the beautifully presented Chevron B23 shared with Richardson engine builder James Claridge, from Dean Forward in Jamie Thwaites' B19 - substituted for his McLaren M8F that had "chewed its gearbox up" in qualifying.
Super-smooth youngster Benn Tilley topped Classic F3 twice in Simon Hadfield's ex-Rupert Keegan March 743. Sunday's leader Andy Smith retired his 783 when its Toyota engine lost oil pressure, while Tilley repassed multiple champion Steve Maxted (Ralt-Alfa RT3) for Monday gold. Ben Stiles aced the FF2000 set despite breaking a damper in race one.
Pierre Livingston scored his first win in Sunday's stunning Historic FF1600 round in a Classic Team Merlyn Mk20 fielded by Mike O'Brien. He stormed clear of Linton Stutely (Royale RP3), reigning double champion Cameron Jackson (March 709) and Northern FF1600 star Tom McArthur in Mandie Hadfield's Mk20.
The pursuers traded places constantly, and cleanly, running inches apart ahead of teenager Horatio Fitz-Simon. He hounded spinner McArthur home in fifth, with Danny Stanzl (Mk20) sixth in class from the back.
An undisciplined start enabled Livingston to scarper on Monday, while Jackson engineered second from Stutely and McArthur. Period FFord racer Tim Brise completed an Over 50s' double in his ex-Ian Scheckter Merlyn Mk20.
Two red flags in quick succession - for Stuart Kestenbaum's 16F inverted on the grass at Hislops (below) after contact and a chain-reaction melee at Island - meant the Classic FF1600 opener was abandoned.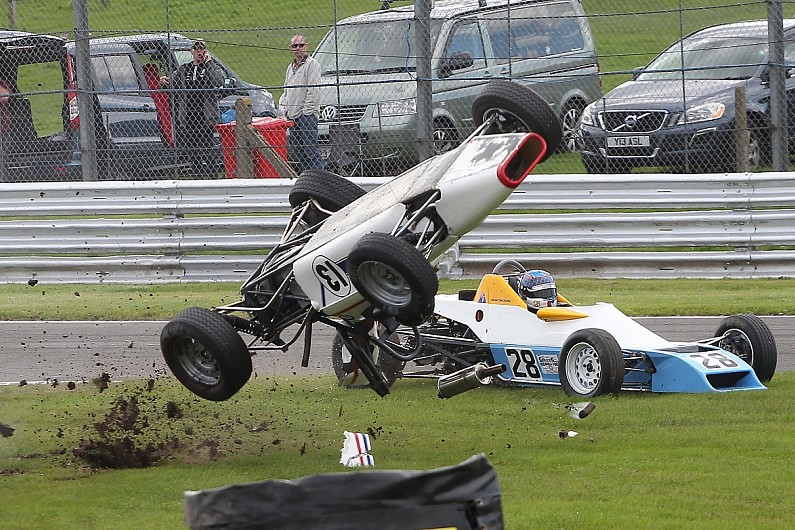 Cam Jackson (Van Diemen RF80) won the breathless sequel, with Mike Gardner (Crossle 32F) abreast at the chequer and top qualifier Henry Chart (after a trip down the Hislops escape road) in tow. Jackson's father Simon won the Pre-'74 class in his Crossle, which suffered an "exploded" engine in Sunday's Historic opener.
Behind the Van Diemen JL012K of Jordan Gronkowski - one of four Renegade Cup invitees from Scotland - Tom Brown (RF91) scrabbled back past Nick Barnes to win James Beckett's super Pre-'93 Heritage FF1600 race by a scant 0.013s!
E-types ruled Monday's Historic Trophy Jaguar race. Jonathon Hughes wrestled the lead from Jon Minshaw, but their duel was defused at Druids. After the quick Mk1s of Richard Butterfield and Peter Dorlin expired, best of the other models was Marc Gordon's ninth-placed XK150S.
Disappointed with qualifying second in '70s and Historic Road Sports, Kevin Kivlochan refocused. 'KeKi' outdragged the Elans of Jez Clark and John Davison with Morgan +8 and AC Cobra respectively to win the half-hour rounds. Davison ran out of brakes in HRS, then Richard Plant parked his Morgan, thus Moggie stalwart Peter Garland earned second.
Rally man Peter Smith withstood constant pressure to win both Historic Touring Car races in his newly built Lotus Cortina. Rick Belcher retired from the opener when his two-litre version's fanbelt snapped, then shot through the pack to finish 0.336s adrift of Smith in the finale.
Behind him, the Cortinas of Minshaw and Philip House sandwiched Pete Hallford's Mustang. Briefly second down Lakeside on lap one, Richard Casey finished on House's tail in his gallant Mini Cooper S.
Simon Garrad's new Nissan Skyline GTR joined builder Ric Wood's, adding spice to the sparse Saloon Car Cup field, but Jason Hughes forged his ex-Jason Plato Vauxhall Vectra Super Tourer between the Japanese flame throwers on Sunday. Attrition decimated Monday's heat. Early leader Wood's turbo blew, leaving Hughes to repass Garrad.
Reports by Kevin Turner, Stefan Mackley, Simon Paice, Mike Holder and Marcus Pye. Pics by Jakob Ebrey Photography, Steve Jones and Mick Walker. Want the full picture on this week's national racing, including more event reports? Subscribe today and never miss your weekly fix of motorsport with Autosport