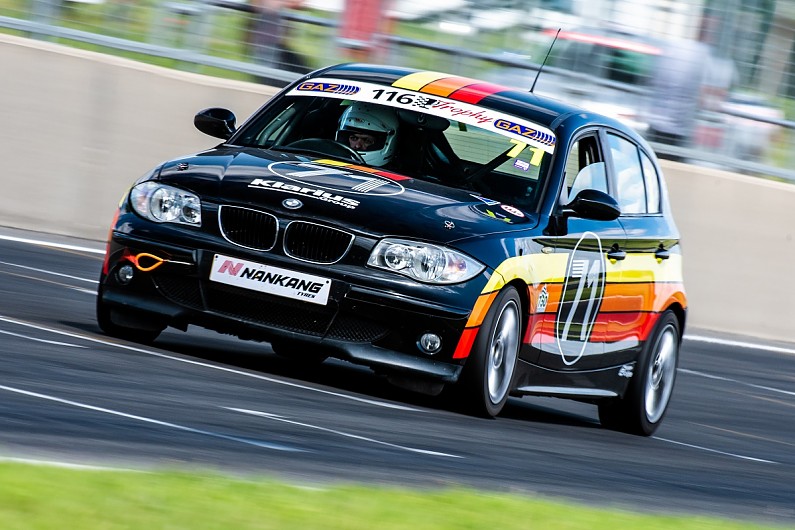 The 116 Trophy is one of the UK's newest series and, despite a delayed start to its sophomore year, is already showing signs of flourishing - including getting an ex-Formula 1 driver behind the wheel
"Drive quick, don't crash." As advice goes, it's not the most groundbreaking, but when an ex-Formula 1 driver tells you to do something, you sure as hell listen.
Martin Donnelly is perhaps better known for the horrendous accident he suffered at Jerez in 1990 - when he was lucky to escape with his life after being thrown from his Lotus 102 - than for his undoubted ability behind the wheel, which took him to International Formula 3000 victories in the late 1980s.
He's certainly not one to shy away from a challenge, taking up the chance to race in the delayed opening round of the 116 Trophy - a series entering its sophomore year in 2020 - in July. It also happened to be in the same car that this writer was offered to drive - and the opportunity to learn from a 13-time grand prix starter wasn't one I was going to waste.
The 116 Trophy is one of the 750 Motor Club's newest series. Two rounds were run alongside Roadsports last year before it went solo with three standalone races. Entries for those trio of meetings averaged 13 cars. Its ethos is based around affordable endurance racing, for which there seems to be a growing market, with the Citroen C1 and EnduroKa series also appearing over the past few years offering a similar low-cost experience.
PLUS: The venerable racing club going strong after eight decades
The BMW 116i used is close to road-going specification, with only minimal changes including a rollcage, racing exhaust, suspension modification, new ECU and a set of Nankang tyres.
The organisers had high hopes heading into 2020 that they could build on what the series achieved last season and, despite the delay and uncertainty resulting from the coronavirus pandemic, 28 cars appeared for the opening round at the Snetterton 200 circuit. That was an incredible feat, and a source of great satisfaction for series director Mark Bate.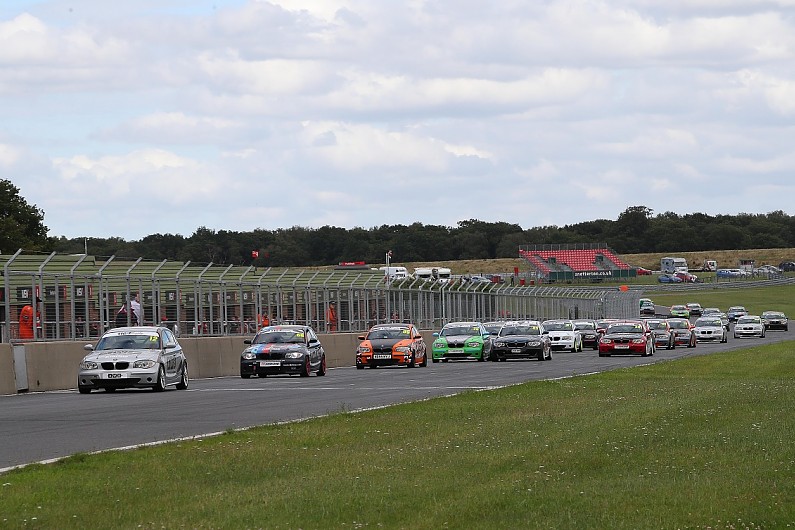 "There were times when I thought this [COVID-19] could finish any race series, never mind a brand new one," he says.
"I was looking at who it was going to hit and, because of the multiple drivers, the amount of people that we bring to the paddock, I thought, 'This is going to kill us'. I was really worrying, I was on edge. We did what we could - speaking to people and showing them that we were still here."
Before the race I have the chance to test the car, which has been put together by Graham Tatham and his son Freddie. Tatham Jr, who has previous experience of competing in the BMW Compact Cup and Production BMW Championship, is going to be the third driver.
"There's nothing that you can do too much differently to it to make it go faster, so for anybody coming off the street who fancies a go, there's no better starting point. It's cost effective - in motor racing terms it's cheap - and it's actually quite a pleasant car to drive" Martin Donnelly
I've taken part in a number of trackdays, but my only previous race outing was in the 2018 C1 24 Hour race at Rockingham. While I'd spent an entire day beforehand driving the car, with no reference from lap times or with another driver behind the wheel my learning had been limited.
With this experience firmly in my thoughts, I'm keen to get advice before going out. Then, completely unprompted, Donnelly appears. "The first turn is easy," he says, before going into detail about braking points and what gear I should be in for each corner.
It's short and to the point, which is perfectly to my liking and doesn't fill my head with unwanted thoughts or concepts, although I do walk away knowing that while some corners may be "easy" for someone with his experience, attempting the same in my opening laps is probably not the wisest thing to do.
The two 20-minute sessions prove to be a mixed bag, as sharing the circuit with faster cars from the Clio 182 and Toyota MR2 categories means I'm often looking in my mirrors. Having watched Donnelly being swamped by the same cars in his session, I at least know that this is to be expected, but finding space and keeping to the racing line is still proving a challenge. Only at the end of the day when chasing another 116 over three uninterrupted laps do I feel confident that I'm at least somewhere in the ballpark when it comes to pace.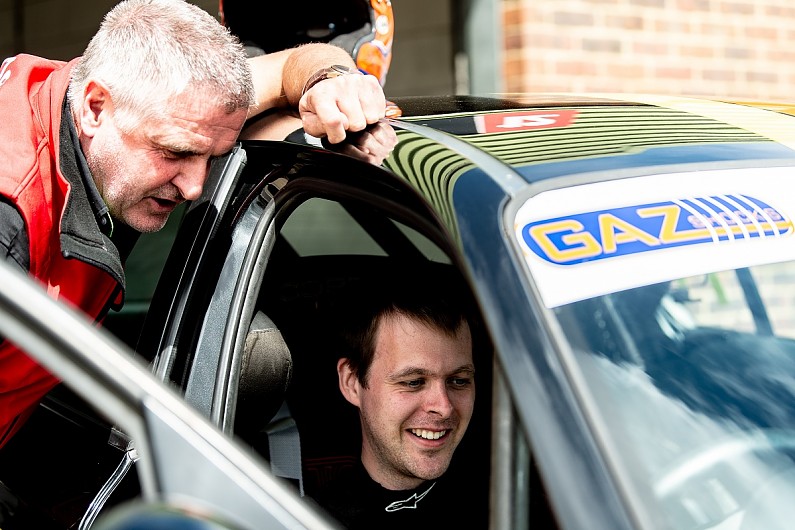 My first impressions of the car, though, are positive. It feels nicely balanced and such has been my confidence on the throttle that we turn on the DTC (dynamic traction control) to lower the input of the traction control. In many ways it feels like a go-kart - Bate describes it as "gearbox go-karting at 100mph at the best circuits in the country and you share it with your mates".
PLUS: Driving club racing's Revolution
Donnelly too is impressed with what the car is capable of. "I have to say I was pleasantly surprised," he says. "It's got no strange quirks, it's nicely balanced - I'm talking about in the dry going at hard speed - it's quite neutral, it's got a nice little bit of understeer on the front for the corners, which means the back end doesn't step out.
"Because it's got 116bhp, it's not got a lot of horses so you're not spending big money on having engines done, the tyres are the same for wet or for dry, and the car is pretty standard.
"There's nothing that you can do too much differently to it to make it go faster, so for anybody coming off the street who fancies a go, there's no better starting point. It's cost effective - in motor racing terms it's cheap - and it's actually quite a pleasant car to drive."
Race morning dawns and, where there had been bright sunshine 48 hours earlier, it's now gloom and rain. I've only been at the track for a few of moments before Donnelly has offered me a tea in his caravan and pulled out a map of the circuit to discuss wet lines.
While I am perfectly content completing the three qualifying laps, which each driver is required to do, at a steady pace - and probably in some ignorance assuming the track would be dry by then - Donnelly is having none of it. The level of detail immediately makes me realise what sets an ex-F1 driver apart - such as picking up on a rough patch of asphalt on the outside of Nelson that had not been resurfaced lately, meaning if I can hook my front-left wheel over it, that will help turn the car.
Around the whole lap there are little gems of information that could probably save seconds against those who don't know about them. It opens my eyes to what's possible.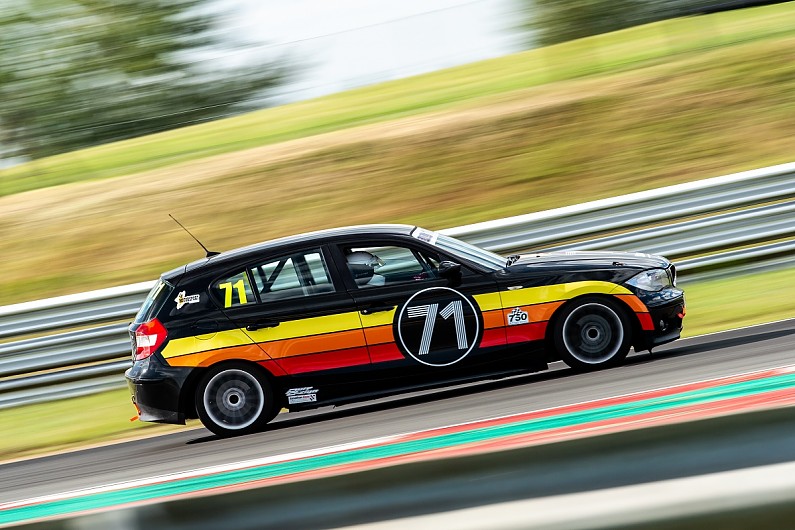 With Donnelly's words "be quick, don't crash" in my head as I venture out on track, it doesn't take long to realise that, while there's no standing water, a thin layer of moisture has made the surface treacherous.
Coming out of the Montreal hairpin, any notion that the TC will do all the work is dismissed as I get a huge kick of oversteer, which catches me by surprise but, at the same time, doesn't feel like it's trying to kill me. The remainder of my laps are spent catching the car in front, which appears to be sliding around more than me!
Having handed over to Tatham and then Donnelly, we place 13th out of 28 runners, with the former F1 driver's time of 1m49.84s some 5.26 seconds off pole. Knowing the race will be in the dry - and that the daunting role of starting is in Tatham's hands - it's now a case of trying to relax. As Donnelly says: "The more relaxed you are, the more you enjoy it."
With Donnelly in place, we unsurprisingly climb up the rankings, eventually crossing the line one lap down in 14th place, before losing a spot for the five-second penalty
I speak with Chris Noakes who, like me, is new to the series. Not only that, but he and fellow competitor James Redish have driven their cars to the circuit - another tick in the box for the series.
"For people who want to get into motorsport, particularly youngsters, it's an easily affordable way," says Noakes.
"No motorsport is cheap, but this is right down at the bottom end cost-wise and the regulations that are in place mean that it's not going to run away with itself. The cars are fairly cheap, the technical regs are such that you can't spend silly amounts of money and you can't get an advantage over anybody else. The cars are really equal."
From the start of the race, my eyes are fixed on our fantastic retro-liveried car and its progress, as Tatham slowly begins to make up the few spots he dropped at the start, eventually bringing the car in from seventh after staying out longer than others before our first stop.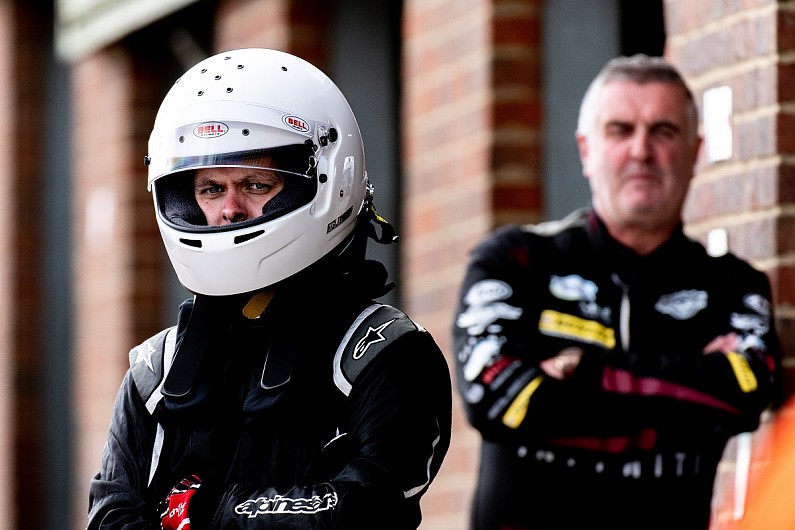 Then it's my turn. My stint doesn't exactly start on the best note, with a five-second penalty board appearing as I leave the pits. Shit! Had I been speeding in the pitlane? As it turns out, Tatham had been given the penalty for exceeding track limits, but I'm none the wiser so spend the opening lap berating myself for what I assume has been my careless error.
I begin trying to settle into a rhythm but soon find myself being chased by two faster cars - who I notice via their pitboards are running first and second. With Donnelly's words of advice running in my head, I allow them through and then try to follow them. While not able to stay in touch, having them to chase - or fall back from, depending on your point of view - definitely helps pull me along, and soon I'm behind the car of Chris Slator, who'd overtaken me at the start of my stint.
But no sooner than I start looking for a way past, I'm called in. What has felt like only five minutes behind the wheel is actually closer to 25. With Donnelly in place, we unsurprisingly climb up the rankings, eventually crossing the line one lap down in 14th place, before losing a spot for the five-second penalty.
My fastest lap is set on my final lap - a 1m39.34s - just over three tenths off what Tatham has been able to achieve in the first stint and just within a second of Donnelly's best. A second is a lifetime in racing, but to be within that margin of a former F1 driver exceeds all my expectations and then some, especially knowing that I'm only just beginning to tap into the full potential of the car and myself.
As for the car, it runs faultlessly, although both Tatham and Donnelly reckon it's down on power compared to our rivals. There's no safety car in the whole race and, while there's been the occasional spin and off-track excursion, driving standards are very high.
As with any series, new or old, there are always things that can be improved. A longer qualifying session would be good, as a three-driver team such as ours was cutting it a little fine to make sure we all completed the required laps.
There's also talk of increasing the 90-minute race to two hours, which would be on the limit of the fuel tank but offer even more track time.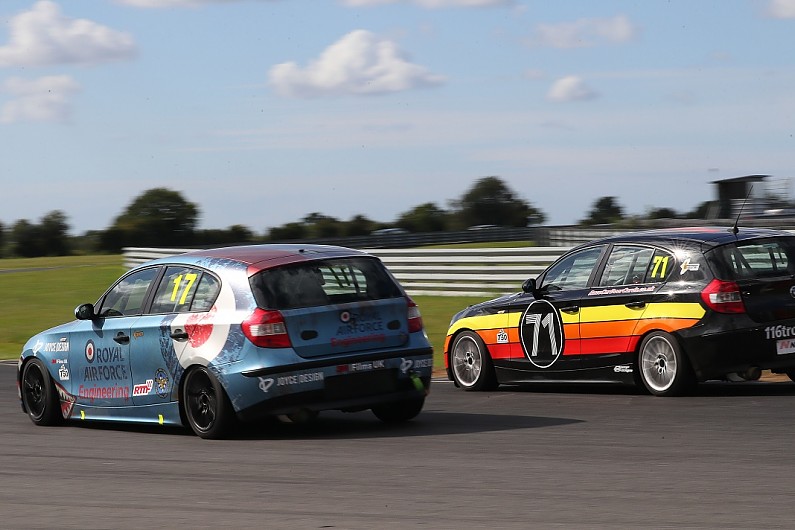 But, as Bate says, "you can't make a decision on the first race of the second season because you haven't got the data, so we've got to sort of do the races to look back on the races".
Having doubled its average entry from last year already, the future of the series appears bright, even when so much at the moment is uncertain.
And, ahead of the next scheduled round at Anglesey later this month, there can be no greater endorsement than that of an ex-F1 driver: "If the invite came back from the club to go to Anglesey and race around there I'd bite their hand off, it would be a great experience."
Pictures by Jon Elsey and Richard Styles