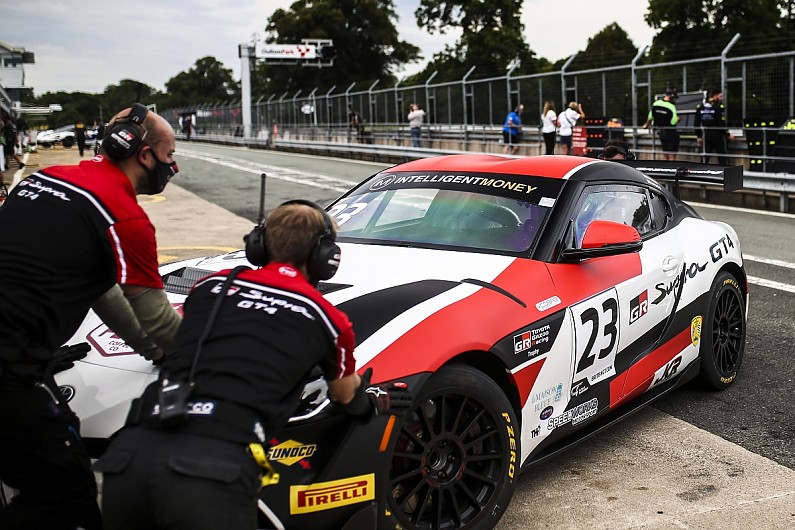 It might lack the glamour of the Le Mans-conquering LMP1 car, but the latest offering from Toyota Gazoo Racing's Cologne base is already causing a stir on the national scene, says JAMES NEWBOLD
Although smiles weren't clearly visible behind the face masks, there was an air of quiet optimism in the room as Autosport sat down for a socially distanced chat with Speedworks Motorsport after qualifying for the recent Donington Park British GT round.
The new-for 2020 Toyota GR Supra GT4 was due to line up second for both races - the first based on the combined times of drivers Sam Smelt and James Kell, the second on Smelt's time from the second session - having topped both practice sessions earlier in the day.
On only the car's second outing, it would score a maiden podium in a wet race one the following day and was fourth in race two, second of the cars that had started on the unfavourable wet Pirelli on the fast-drying track. Having for so long been the domain of Aston Martin and McLaren, there's a new gunslinger in the GT4 corral.
Speedworks, best known for its exploits in the British Touring Car Championship, became an official partner of Toyota Gazoo Racing Europe (TGRE) in Cologne before the debut season for the Corolla NGTC last season, so it was little surprise when Christian Dick's outfit was chosen to showcase the company's new GT4 racer on the UK market.
Primarily developed by 1998 Le Mans 24 Hours winner Stephane Ortelli and Toyota LMP1 driver Jose Maria Lopez, who raced it in the DTM Trophy at the Lausitzring last weekend, the GR Supra GT4 is the "next level", according to TGRE's senior engineer for customer motorsport Florian von Hasselbach, beyond its popular GT86 platform.
"This project is way bigger than the GT86," confirms von Hasselbach. "We use the GT4 project also to support sporting activities from the road to the race track."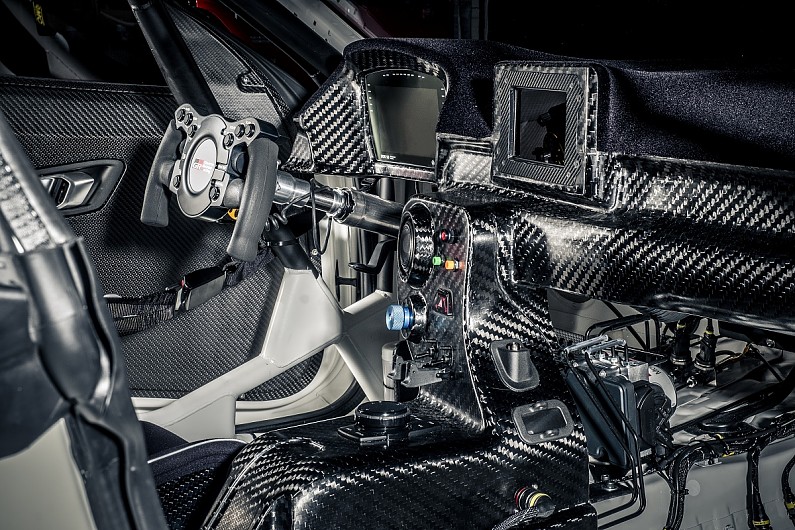 Unlike LMP1, which requires a blend of speed and efficiency, TGRE knows that to become a player in the customer racing market it will need the car to be easy to set-up and drive for racers of varying abilities, while also being affordable.
Von Hasselbach says there is a "fine line between correct performance and also adequate pricing" to ensure it does not become too expensive, a point project manager Loic David addresses as "the biggest challenge".
"You use your expert eyes from the electronic department, engine and chassis, but you need to do a lot of compromises in the price, you cannot go as much into details or solutions like you have in prototype cars" Loic David
Frenchman David has an extensive background with TGRE, having acted as the chief engineer overseeing its entry to Formula 1 in 2002. He certainly knows what he's talking with regard to costs, having been charged with managing the Lexus RC F GT3 programme - one Cologne rather inherited from Japan - which has struggled against European-based competitors due to high import taxes.
"At TGRE they are very experienced at designing cars for Formula 1, the Le Mans 24 Hours, the World Rally Championship, plus the GT86, but this has been a new phase in the company," he says. "You use your expert eyes from the electronic department, engine and chassis, but you need to do a lot of compromises in the price, you cannot go as much into details or solutions like you have in prototype cars.
"It's very demanding to be focusing everybody on that aspect - that has been one of the biggest challenges."
Naturally TGRE has taken time to study what is already available on the market and the elements on the car it can change from its road-going variant, with von Hasselbach identifying the electronics as the most significant change beyond an enhanced front splitter and rear wing to improve downforce. Again, it's a move made with customers in mind.
"In the long term this will save us a lot of issues with customers," he says. "We tried to make the system easy for the customer to be able to handle themselves."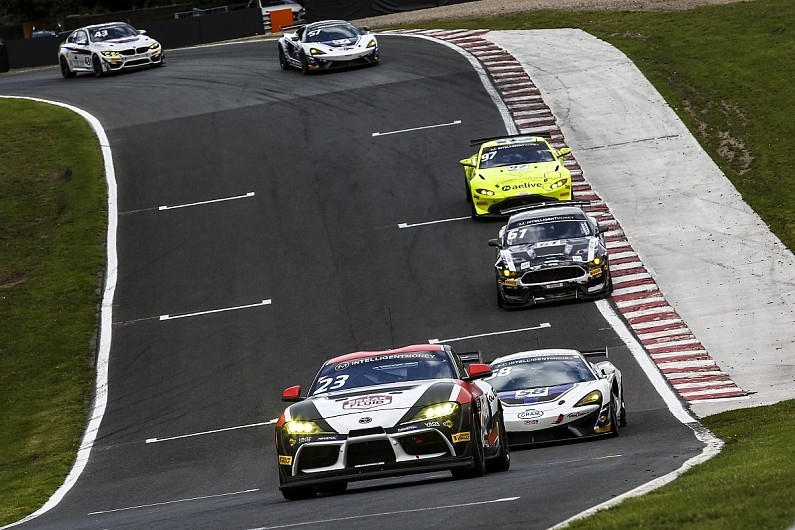 The result of its efforts was immediately clear to Dick last year when he and BTCC driver Tom Ingram travelled to Jarama to sample the package for the first time.
"Obviously GT4 regulations are based very heavily on the road car and that can leave them feeling a bit heavy, a bit lethargic," says Dick. "But this felt a much racier, much more connected package. All three of the guys when they first drove the car were happily surprised by how positive it felt and the feedback they got from it."
Indeed, even after only three tests and two race weekends, the car is showing enormous potential in Speedworks' hands, despite running with significantly more Balance of Performance weight and rideheight than engineer Tim Wright had accounted for.
"Every change we have made, you can feel a big difference," says Smelt, who drove a Race Performance Ford Mustang GT4 last year. "It's easy to work on and compared to the Mustang, its strengths are in different areas. It's hard to say, race to race and track to track, but the package as a whole feels strong right from the outset."
Wright (below, right, with Dick), who ran Ben Tuck and Ben Green's Century Motorsport BMW M4 to second in the GT4 standings in 2018, adds: "From the word go, it's been a very easy car to set up - it's an easy car to get a feeling for what changes are going to help."
Wright explains that the car is especially stable in high-speed corners, which is also helping its drivers acclimatise. Ginetta graduate Kell admits to feeling "disheartened" after a test in the Aston Martin Vantage GT4 that won last year's title, but his nerves were dispelled after trying the GR Supra GT4.
"I was apprehensive of what to expect but, when I jumped in it, I was really surprised at how aggressive the car is," he says. "It just feels a bit more pointy."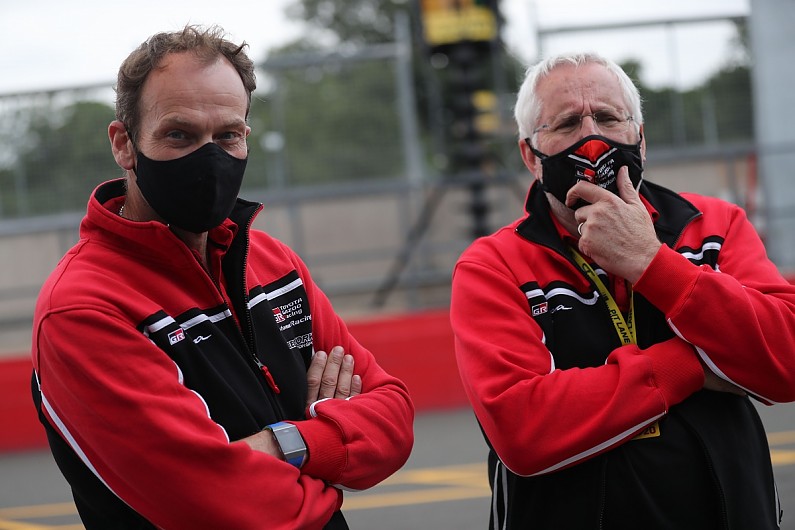 Wright continues: "The sort of set-up we've got, it's testament to the engineering that's gone into it. The engine is fantastic anyway, but it's so much better on a lot of levels than the BMW was.
"At Silverstone [in testing], we were nearly two seconds under the pole for last year. OK, they've resurfaced some of the track, which maybe gave us a second, but to be that fast definitely bodes well."
Indeed, Speedworks is confident that the remainder of the season - with the Brands Hatch Grand Prix circuit followed by another visit to Donington, then a Snetterton double-header and Silverstone - should suit the GR Supra GT4 well.
"The more that we understand the car, the more time that the guys spend working with the team, the team working together, it's all going to gel and get stronger" Christian Dick
"Oulton, in theory, would have been our worst track anyway, every other track is pretty high-speed," points out Smelt.
Although the team has some catching up to do in the points standings thanks to a DNF in race two at Oulton Park when Kell tagged Matt Griffin's GT3 Ferrari at Knickerbrook, it is telling that Dick is already looking at what more is to come.
"We're still at the very early stages of a new team of guys working together and Tim and the drivers' understanding of the car," he says. "While we're in a great position, and we've got there far quicker than we possibly could have hoped for or certainly have any right to expect, there's every reason to believe we're only going to get stronger from now on.
"The more that we understand the car, the more time that the guys spend working with the team, the team working together, it's all going to gel and get stronger. There's a lot of optimism about the circuits that we're going to and the car's strengths that we know at the moment, but also in the fact that even those weaknesses in the package will iron out and will get stronger."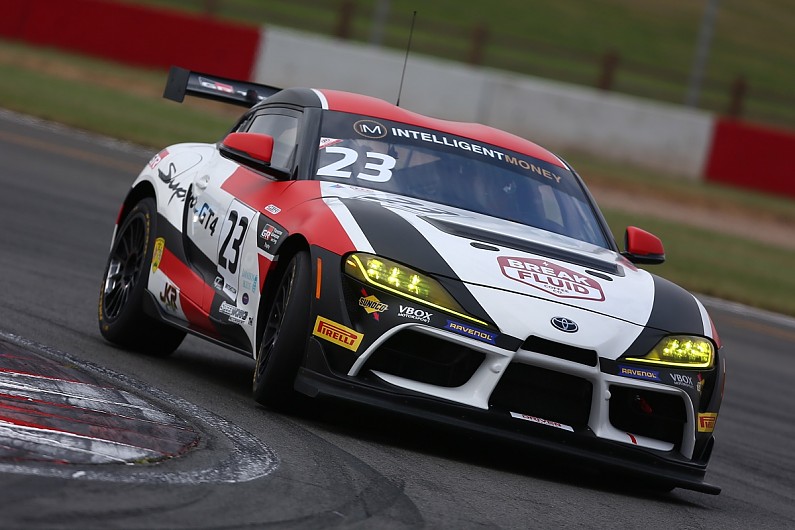 TGRE is an active participant in this, with technical support on hand at every round so far feeding back to Cologne.
"We've got a representative from them here and he regards us as the best set up team that they're working with," says Wright. "He's pushing quite hard to get things done, which from our point of view is great."
Given the uncertain economic climate arising from the coronavirus pandemic, Dick's plan is for Speedworks to remain a single-car team for the foreseeable future but, with the GT4 team a separate entity to the BTCC operation, there is scope to expand in time.
"Of course, there are benefits of having two cars - that would be great - but it's a really strange season for a lot of reasons," he says. "We're only just starting this season and already we're at the time of year where, from my point of view, we're thinking about next year and how that can look with regard to what kind of support can we expect, where is the money going to come from to run one car, let alone moving on [to a second].
"I'm open-minded to it. In an ideal world pre-COVID yes, definitely, and if the right opportunity is there, we'll look at it again, but right now the focus is on making sure we get this right and seeing where that leads us."
The GR Supra GT4 is also being run in multiple series across Europe, including the Nurburgring-based NLS, European GT4 and French GT4. But success with a one-car team in Britain, for a project so young, would perhaps be TGRE's greatest accomplishment. Whether it will happen this year remains to be seen, but one thing is for sure: this is only the start.