If there's one thing that's certain about MotoGP in 2021, it's that you'll not have too hard a time spotting the Tech3 bikes this year. With Red Bull backing out of its title partnership with Herve Poncharal's stalwart squad, KTM has seized the opportunity to deck out its satellite RC16s in the marque's iconic orange colours.
It's a striking difference in look when you contrast it to that of the Toro Rosso-esque livery Tech3 ran in last year. And on the face of it, the fact Tech3 doesn't have a title partner from Austria's biggest company on its Austrian motorcycles seems odd.
But Poncharal confirmed discussions are 95% there, in regard to Tech3 and KTM continuing its tie-up beyond 2021. And as well as a new livery, the team name is new - the squad now known as Tech3 Factory Racing KTM.
Now, KTM admits it's not sure if legally it is allowed to field two teams dubbed 'factory' (its main team is Red Bull KTM Factory Racing) in MotoGP. But it has done this to follow its vision of having "one big factory team" in the premier class, with Tech3 - as it was last year - a fully works-supported outfit.
"I mean, to be honest, we did not even check if we are allowed to call two teams a factory team," KTM's motorsport boss Pit Beirer said on Friday following its 2021 launch event. "For us it was an emotional step.
"From the beginning we said we'd try to create something that is one big factory team with four riders, and for us it was never so important to call Tech3 a satellite team or a customer team because we always had the plan it would be a very strong partner.
"For us it was important to find a strong partner, we found that with Herve. We told everybody we try to treat the riders the same, with the same kind of material. So, for us it's just cosmetic if it's called a factory team or not."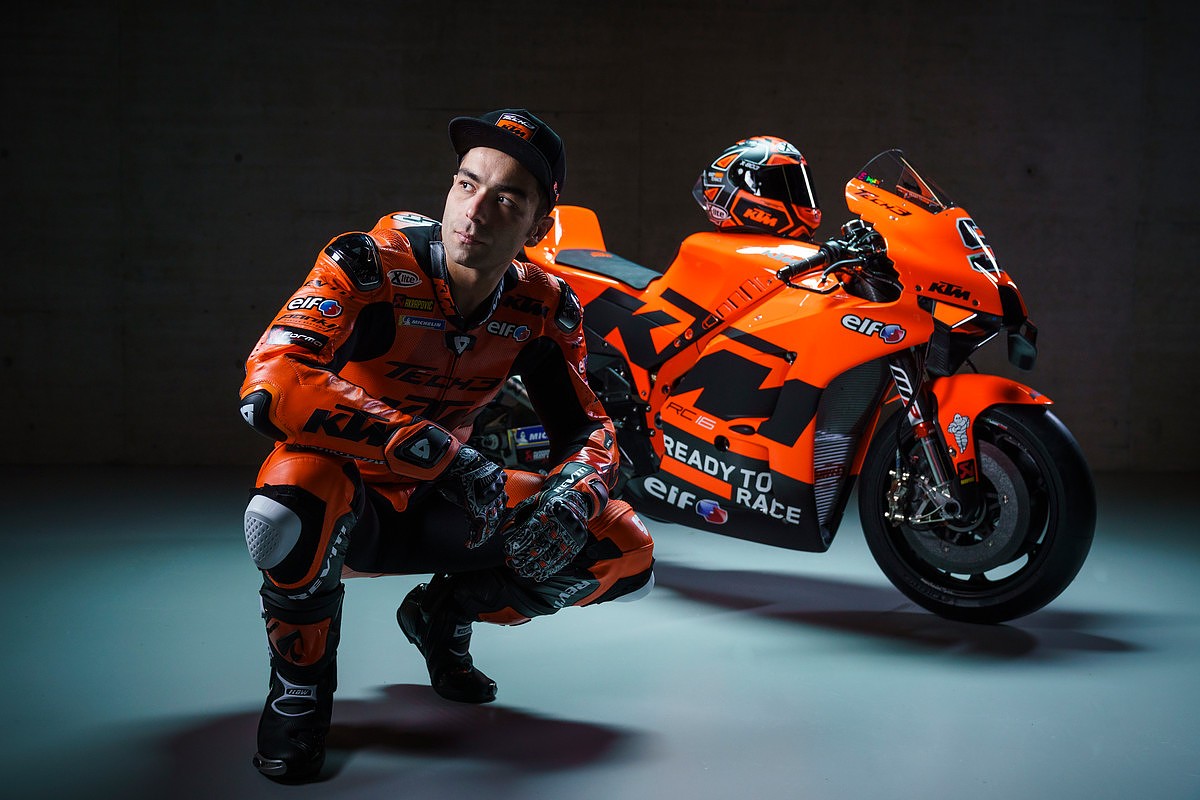 Tech3 certainly has been "a very strong partner", Poncharal's squad tallying up two of KTM's three wins in 2020 courtesy of Miguel Oliveira at the Styrian and Portuguese Grands Prix. All but Avintia on the current grid of satellite teams has full works support and current machinery from their respective manufacturer (though Petronas SRT is still fielding a 2019 bike for Franco Morbidelli in 2021). But none are quite so forthright in essentially branding their satellite team as a factory squad as KTM is.
And this is very telling of where KTM's mindset is coming into its fifth season in the premier class - or, to put it another way, the year it had earmarked as when it should be winning races back when it joined the world championship in 2017. Mission already accomplished then, but naturally the sights are now set higher.
"I truly believe we have what it takes to fight for the world title and I can't wait to get this year started. But everything we have to take step by step and race by race" Brad Binder
"I believe so, I believe we have an extremely competitive package underneath us," Brad Binder, KTM's first MotoGP race winner, said when asked if KTM could fight for the title in 2021. "Last season proved how strong our package was, and I only see us improving this season.
"So, yeah, I truly believe we have what it takes to fight for the world title and I can't wait to get this year started. But everything we have to take step by step and race by race, and let's see how we get on."
PLUS: Why Binder was destined to lead KTM
Beirer was more reserved in his answer when asked the same question, admitting: "I definitely want to be called with the title contenders. [But] I think this should not be on our shoulders". Beirer also dropped a bit of a bombshell during his debrief with the media on Friday, revealing KTM won't be starting the 2021 season with the "super engine" one paddock insider feared would be the case last year.
With COVID-19 forcing cost-saving measures to be ushered in, one of those was to put a freeze on all manufacturers (including those running with concessions, which at the time were KTM and Aprilia) from carrying out any in-season engine and aerodynamic developments. This would carry over into 2021 for the non-concession manufacturers.
As Beirer notes, three grand prix victories was "something we didn't have on the agenda". As per the rules, six concession points gained through podium results (three for a win, two for second, one for a third) means you are no longer a concession team.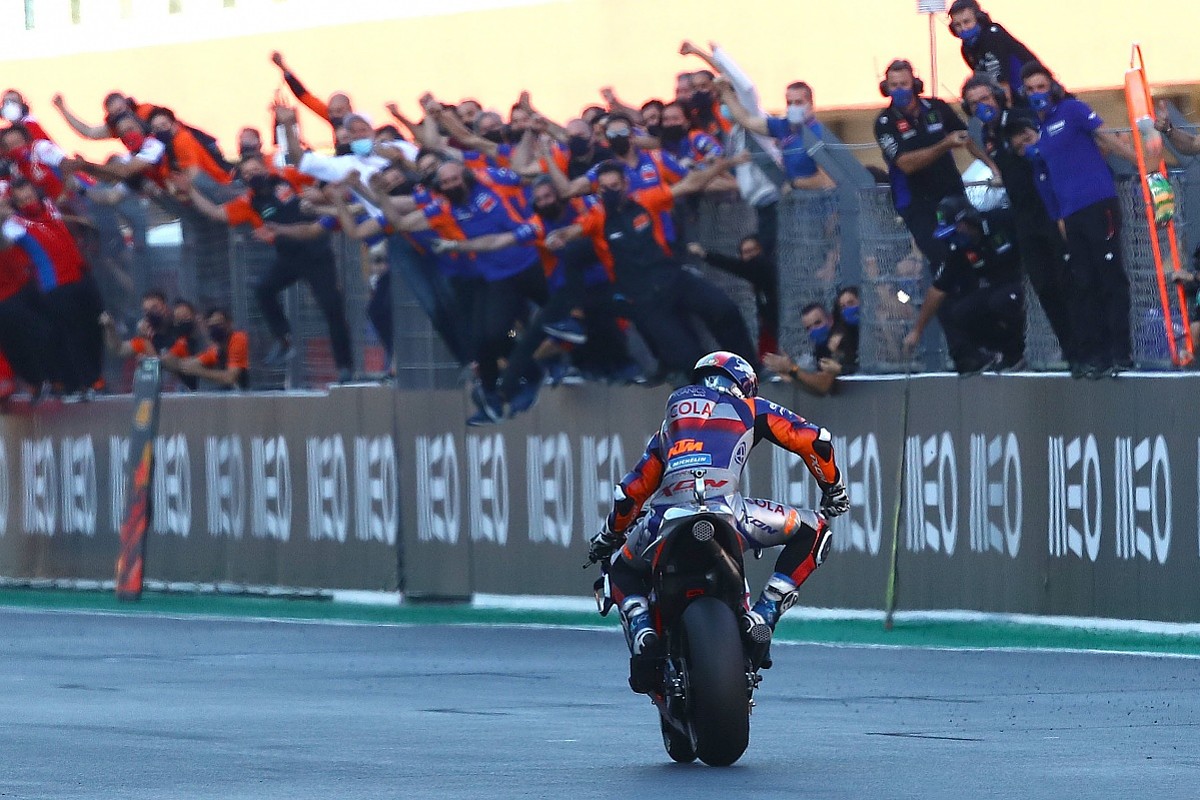 When KTM met this threshold after the Styrian race, a motion was tabled that would allow KTM to use nine of the engines it homologated in 2020 for 2021, instead of the seven it would have been permitted as a non-concession team. But after no agreement could be reached, it was agreed it could develop a new engine for 2021.
Scoring three wins and five other podiums, as well as three pole positions across the year, the fact KTM could build a new bike for 2021 would have offered it a distinct advantage. Yet it hasn't, in a bid to not waste unused material from last year and as a courtesy to its rivals.
"It's the same bike concept, not a radical new engine," Beirer says when Autosport asks about KTM's 2021 engine. "We touched some parts, but we did not bring a completely new model.
"If we use the gap in between the lines, actually we could build a completely new bike. But first of all, you need also to have the manpower to do so, and we committed to our colleagues that we're going to go altogether in a useful format and not to destroy too much material and that's what we did. So, we didn't have the plan to make a completely new machine and use this moment to take an advantage."
It's an admirable decision from KTM, but it is odd. It's easy to see this as KTM giving away the chance of a lifetime to win the MotoGP world championship. Tech3 boss Poncharal even admits the 2021 RC16 is "99% the bike we had in Portimao".
Poncharal did offer an interesting alternate reason for KTM not having a radically new bike for 2021, stating: "It is clear that at KTM there is a 2022 motorcycle that exists, which drives, which tests, which gives interesting results. Maybe if there had been more tests, in particular in Malaysia (which has been cancelled), we could have thought [to use it], but here we will play safe and the four riders will ride on 2020 specs."
It's not out with the realms of possibility a lack of testing has played a part. Due to COVID, there was no two-day test at Jerez post-season and the fact the five days of running in 2021 have been confined to Qatar means there's no real chance to iron out anything at the factory and bring refined parts to try at the final test ahead of the race.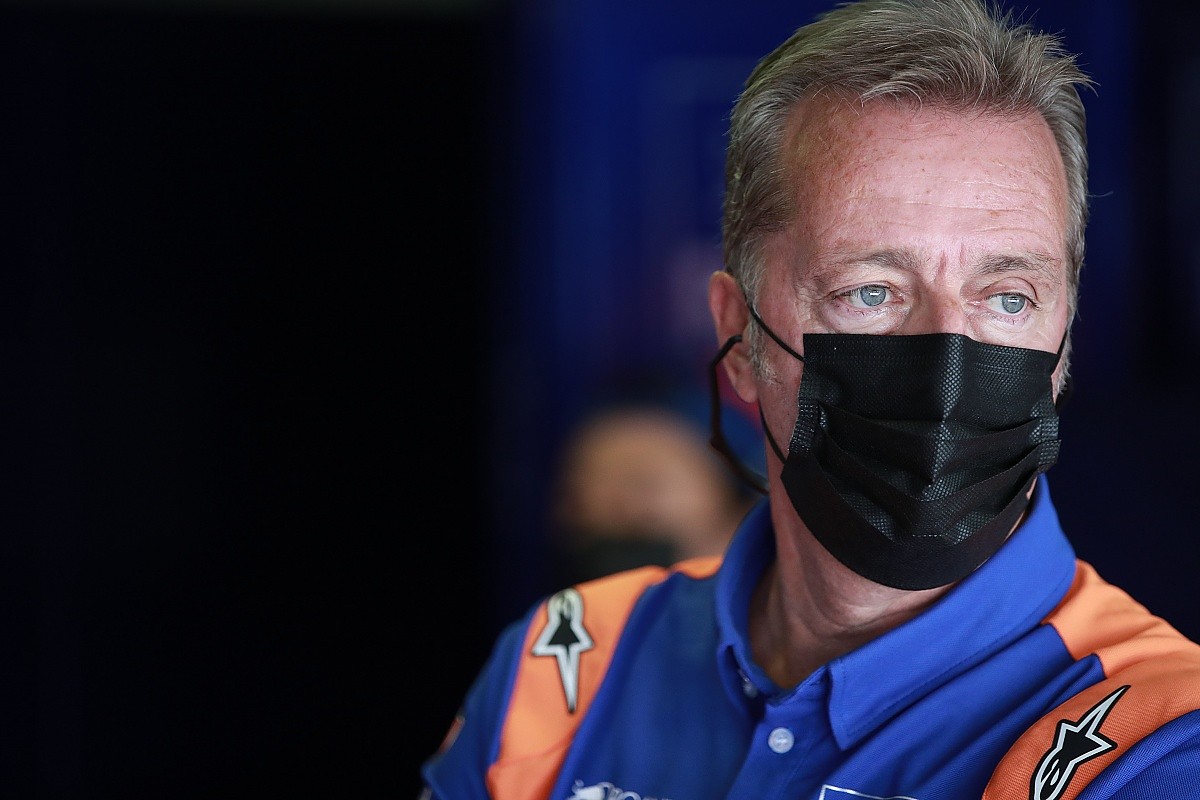 Regardless, Binder's optimism isn't misplaced. Beirer doesn't think anybody "should be scared of KTM" in 2021, but did point out that "when you see where we made the most stupid mistakes and lost quite a lot of points, you see we would not be so far away [in the championship] with the same bike/rider/team performance."
Binder made errors in the opening two rounds of 2020, coming away from them with just three points having shown podium pace in both. A mistake late on in the Styrian GP lost him a top five, and he crashed while running third through overexuberance in the Emilia Romagna GP.
A first-lap tangle with Jack Miller in the Teruel GP stripped him of another points opportunity and left him with a long-lap penalty for the European GP, where he showed pace far better than the seventh place he ended up with. Just one of those errors not happening would have netted KTM second in the constructors' championship, having finished two points behind Yamaha - and just 21 behind winners Ducati.
From being 3.5 seconds off the pace in qualifying for its very first race in Qatar in 2017, KTM was a stroke or two of better fortune away from being constructors' champions last year
The step forward the RC16 took in 2020 was bigger than even KTM expected, and at most events the bike worked straight out of the box. Of course, COVID permitting, the current RC16 will face circuits it hasn't yet. But Beirer feels the way KTM is heading towards the season means it is "prepared" for what lays ahead - though, his caution remains.
"Consistency is much more important now than going for that one third place with a huge risk to crash," he says. "So, a certain stability will be important, so if we can keep this into the new season, anything can happen. But looking to the points standing right now, it's quite scary if we need to repeat this or make it better."
The 2021 grid is littered with strong line-ups, but KTM - as Poncharal told Autosport late last year - has the "dream team" of Binder and Oliveira at its helm. At Tech3, double race winner Danilo Petrucci - feeling "younger" than he did 10 years ago courtesy of Red Bull's athlete performance centre - will act as a strong third gunner and development guide, while Iker Lecuona can only get better in his sophomore campaign after flashes of promise in a curtailed 2020.
PLUS: The "warrior" MotoGP rookie KTM was right to back
A lot was weird about the 2020 season, but KTM's form across the campaign wasn't. The resources it has put into its MotoGP project have been immense. From being 3.5 seconds off the pace in qualifying for its very first race in Qatar in 2017, KTM was a stroke or two of better fortune away from being constructors' champions last year.
And while the job won't be an easy one - perhaps not helped by the decision not to take advantage of its ability to build a 'super engine' - to consider KTM a genuine championship challenger is no longer a fantasy.