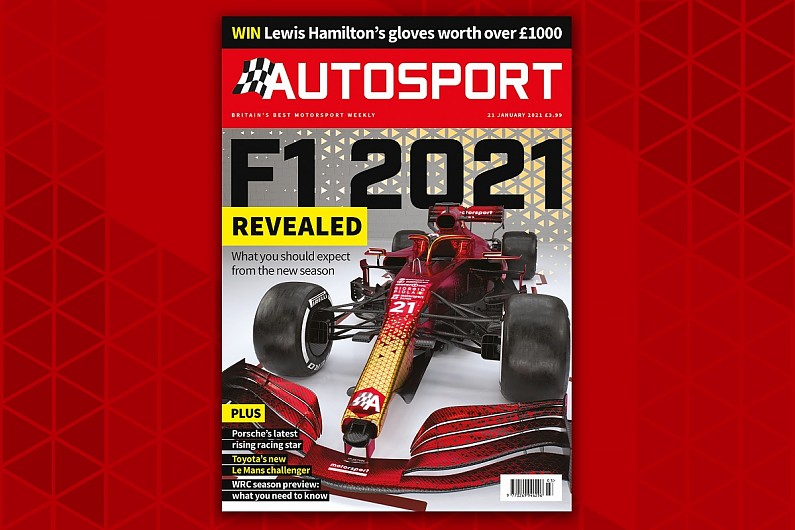 New rules and fresh driver line-ups will change the look of Formula 1 in 2021, which we reveal in this week's Autosport magazine, out today (21 January).
There has been so much talk about F1's important new regulations for 2022, it is easy to overlook the fact that there are some changes for the teams to get their heads around this year.
As well as the obvious seat-swapping, there are technical rule tweaks, particularly to the floors, that are now giving F1 designers some challenges to overcome. Our technical editor Jake Boxall-Legge is your guide as we outline some of the key elements that will make 2021 more than simply a repeat of 2020.
Alex Kalinauckas also points out the pitfalls Mercedes must avoid if it is to maintain its incredible run of success, while Luke Smith talks to McLaren star Lando Norris about why he has had to consider modifying his approach to - and public persona on - social media.
Ahead of the World Rally Championship kicking off with the Monte Carlo Rally, Toyota ace and 2020 Autosport International Rally Driver of the Year Elfyn Evans tells us about his expectations for the campaign, while we pick out the main things to look for in 2021.
As well as being one of the main contenders in the WRC, Toyota is busy with its new Hypercar challenger as the World Endurance Championship prepares to start a new, cheaper era. Sportscar guru Gary Watkins investigates the thinking behind the GR010 and sees how it differs to the multiple championship and Le Mans-winning TS050 LMP1 car.
Harry King was one of the undoubted stars of 2020 - Autosport readers voted him National Driver of the Year - and this week we speak to the youngster about his brilliant Porsche Carrera Cup GB performances and his hopes for the future.
There's also the latest on the club motorsport events that have been postponed or cancelled, plus sportscar constructor Praga opens up about its plans in the UK.
Want Autosport magazine delivered to your door each week? Subscribe today and never miss your weekly fix of motorsport: www.autosportmedia.com/offer/article