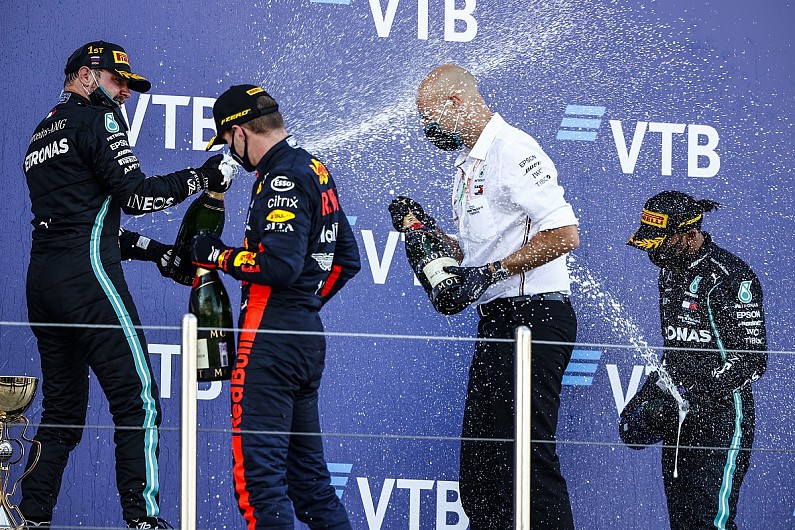 In a hectic Russian Grand Prix, Valtteri Bottas secured his second Formula 1 victory of the season after Mercedes team-mate Lewis Hamilton served time penalties for pre-race practice start infringements.
The drama erupted in Sochi even before the start of the race when Hamilton was placed under investigation by the race stewards for completing two practice starts en route to the grid in the wrong place.
It resulted in Hamilton being given two five-second time penalties, forcing him to stop for 10 seconds when taking his sole pitstop during the race, which dropped him out of the lead.
While Hamilton vented his frustration at the decision, a judgement which initially also gave him two FIA superlicence penalty points only for officials to make a U-turn and hand Mercedes a €25,000 fine instead, Bottas controlled from the front to claim victory ahead of Red Bull's Max Verstappen.
The race also saw an early safety car period after Carlos Sainz Jr crashed on the opening lap at Turn 2, while in a separate incident Lance Stroll was involved in a clash with Charles Leclerc which sent the Racing Point driver spinning into the wall at Turn 4.
Autosport grand prix editor Alex Kalinauckas and F1 reporter Luke Smith are joined by Motorsport Network director of digital strategy Jess McFadyen and Motorsport.com network editor Oleg Karpov to pull apart the key talking points from the Russian GP.