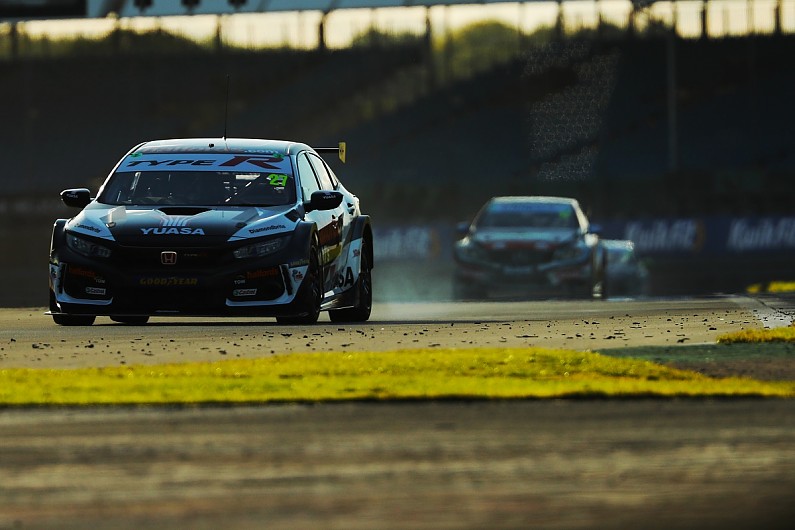 Dan Cammish led Matt Neal in a Honda 1-2 in free practice for the British Touring Car Championship round at Silverstone.
Cammish, who is carrying 36kg of success ballast on his Team Dynamics-run Civic Type R, lapped the National Circuit 0.088 seconds quicker than the sister car of veteran Neal, who has moved up to 12kg of ballast following his double podium last time out at Thruxton.
As well as his 57.400s best, Cammish also recorded a 57.402s and a 57.407s during the same run of six flying laps in the second session, quicker than anyone else's best.
The Hondas look well poised in the corners, and the Neil Brown-powered machines also emerged top of the speed traps in both sessions.
Championship leader Ash Sutton, carrying the full 60kg of ballast on his Laser Tools Racing Infiniti, had a very strong free practice at Silverstone - something that has not always been the case this season.
Sutton headed the first session by 0.090s from the Speedworks Motorsport-run Toyota Corolla of Tom Ingram, while the Hondas of Neal and Cammish were down in fifth and sixth, with Cammish having a quick spin at Becketts.
Sutton (below) almost matched his morning time early doors in the lunchtime session, before running round in tandem with team-mate Aiden Moffat in what appeared to be a slipstream rehearsal before qualifying.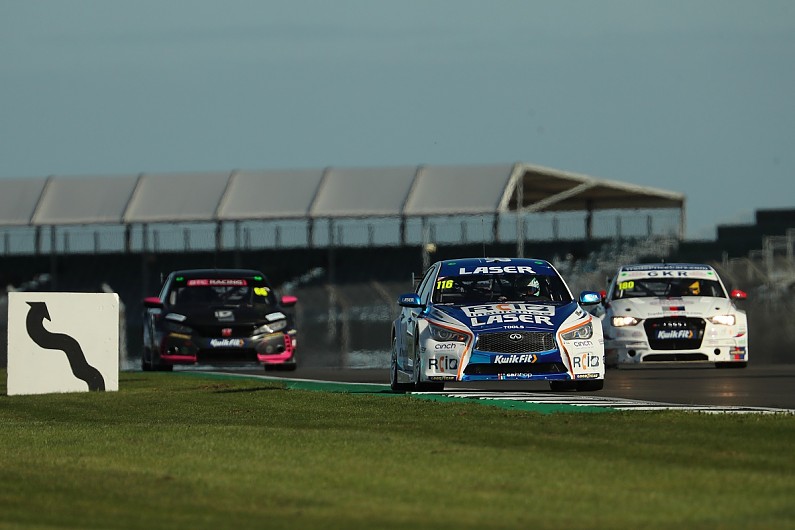 Ingram, who has won five races in the past four seasons at Silverstone - none of them reversed-grid counters - didn't quite improve on his morning time either, even though he leapt up to fourth in the second session on the final lap, behind Sutton.
The Toyota is carrying 48kg of ballast following its pair of Thruxton wins that vaulted Ingram up to third in the championship, and the Speedworks team was happy with progress.
Reverse-grid Thruxton winner Josh Cook made it three Hondas in the top five with his BTC Racing machine, while Tom Oliphant's best time, which put him third in the opening session, was good for sixth overall in the lead West Surrey Racing-run BMW 330i M Sport on 30kg of ballast.
Oliphant and team-mate Colin Turkington, who is carrying 54kg of lead, embarked on a 13-lap run late in the second session in which they also appeared to be practising towing each other.
Adam Morgan improved in the second session to put his Ciceley Motorsport Mercedes A-Class seventh, although he followed that with a massive moment at Copse when he powered into the slide to get pointed back in the right direction, to the chagrin of his tyres.
Senna Proctor put in a good time while chasing Sutton on track that put him fourth in the morning, eighth overall in the leading Excelr8 Motorsport Hyundai i30.
Stephen Jelley made a late improvement while on a 16-lap 'race' run to go ninth in Team Parker Racing's BMW 125i M Sport, while the top 10 was completed by the improving James Gornall at the wheel of his Trade Price Cars Audi S3.
Turkington ended up 11th overall, one spot ahead of another of the title contenders, Rory Butcher in his Motorbase Performance Ford Focus, which is on 42kg of ballast.
Silverstone BTCC FP1 result
| Pos | Driver | Team | Car | Gap |
| --- | --- | --- | --- | --- |
| 1 | Ash Sutton | Laser Tools Racing | Infiniti | 57.501s |
| 2 | Tom Ingram | Speedworks Motorsport | Toyota | 0.090s |
| 3 | Tom Oliphant | WSR | BMW | 0.157s |
| 4 | Senna Proctor | Excelr8 Motorsport | Hyundai | 0.199s |
| 5 | Matt Neal | Team Dynamics | Honda | 0.248s |
| 6 | Dan Cammish | Team Dynamics | Honda | 0.260s |
| 7 | Adam Morgan | Ciceley Motorsport | Mercedes | 0.272s |
| 8 | Colin Turkington | WSR | BMW | 0.308s |
| 9 | Aiden Moffat | Laser Tools Racing | Infiniti | 0.335s |
| 10 | Rory Butcher | Motorbase Performance | Ford | 0.397s |
| 11 | Chris Smiley | Excelr8 Motorsport | Hyundai | 0.413s |
| 12 | Josh Cook | BTC Racing | Honda | 0.470s |
| 13 | Stephen Jelley | Team Parker Racing | BMW | 0.511s |
| 14 | Jake Hill | AmD Tuning | Honda | 0.512s |
| 15 | Tom Onslow-Cole | Team Hard | Volkswagen | 0.610s |
| 16 | Michael Crees | BTC Racing | Honda | 0.650s |
| 17 | Sam Osborne | AmD Tuning | Honda | 0.709s |
| 18 | Ollie Jackson | Motorbase Performance | Ford | 0.720s |
| 19 | Carl Boardley | Team Hard | BMW | 0.724s |
| 20 | Tom Chilton | BTC Racing | Honda | 0.752s |
| 21 | Bobby Thompson | Trade Price Cars Racing | Audi | 0.803s |
| 22 | James Gornall | Trade Price Cars Racing | Audi | 0.807s |
| 23 | Jack Goff | Team Hard | Volkswagen | 0.830s |
| 24 | Andy Neate | Motorbase Performance | Ford | 0.962s |
| 25 | Jack Butel | Ciceley Motorsport | Mercedes | 0.981s |
| 26 | Jade Edwards | Power Maxed Racing | Vauxhall | 1.147s |
| 27 | Nicolas Hamilton | Team Hard | Volkswagen | 1.448s |
Silverstone BTCC FP2 result
| Pos | Driver | Team | Car | Gap |
| --- | --- | --- | --- | --- |
| 1 | Dan Cammish | Team Dynamics | Honda | 57.400s |
| 2 | Matt Neal | Team Dynamics | Honda | 0.088s |
| 3 | Ash Sutton | Laser Tools Racing | Infiniti | 0.158s |
| 4 | Tom Ingram | Speedworks Motorsport | Toyota | 0.237s |
| 5 | Josh Cook | BTC Racing | Honda | 0.257s |
| 6 | Adam Morgan | Ciceley Motorsport | Mercedes | 0.288s |
| 7 | Stephen Jelley | Team Parker Racing | BMW | 0.311s |
| 8 | Tom Oliphant | WSR | BMW | 0.329s |
| 9 | James Gornall | Trade Price Cars Racing | Audi | 0.336s |
| 10 | Colin Turkington | WSR | BMW | 0.341s |
| 11 | Rory Butcher | Motorbase Performance | Ford | 0.372s |
| 12 | Sam Osborne | AmD Tuning | Honda | 0.410s |
| 13 | Aiden Moffat | Laser Tools Racing | Infiniti | 0.413s |
| 14 | Jake Hill | AmD Tuning | Honda | 0.502s |
| 15 | Tom Chilton | BTC Racing | Honda | 0.522s |
| 16 | Tom Onslow-Cole | Team Hard | Volkswagen | 0.544s |
| 17 | Senna Proctor | Excelr8 Motorsport | Hyundai | 0.546s |
| 18 | Michael Crees | BTC Racing | Honda | 0.554s |
| 19 | Ollie Jackson | Motorbase Performance | Ford | 0.559s |
| 20 | Chris Smiley | Excelr8 Motorsport | Hyundai | 0.602s |
| 21 | Jack Goff | Team Hard | Volkswagen | 0.611s |
| 22 | Jack Butel | Ciceley Motorsport | Mercedes | 0.772s |
| 23 | Carl Boardley | Team Hard | BMW | 0.772s |
| 24 | Bobby Thompson | Trade Price Cars Racing | Audi | 0.899s |
| 25 | Nicolas Hamilton | Team Hard | Volkswagen | 0.994s |
| 26 | Andy Neate | Motorbase Performance | Ford | 1.013s |
| 27 | Jade Edwards | Power Maxed Racing | Vauxhall | 1.382s |